NFL Rumors: Alex Smith Headed For Free Agency, Washington Could Trade For QB
A few months after becoming one of the great comeback stories in NFL history, Alex Smith is looking for a new team. The quarterback is expected to hit free agency for the 2021 offseason.
The Washington Football Team and Smith are set to part ways in the coming days, NFL Network reports. The veteran was set to earn an $18.75 million base salary next season.
Smith spent three seasons with Washington, missing most of that time because of a devastating leg injury that resulted in 17 surgeries. The 36-year-old returned to the field for the first time in two years on Oct. 10.
Smith made six starts for Washington in the 2020 season. He finished with six touchdown passes, eight interceptions and a 78.5 passer rating in 2020. Three years ago, he ranked first among all starters with a 104.7 passer rating.
Smith wasn't expected to take any snaps last season. He eventually replaced former first-round draft pick Dwayne Haskins, who was later released by the team.
Washington won the NFC East, though Smith didn't perform at the level he once reached earlier in his career. Smith is a three-time Pro-Bowl selection, and he was the NFL's passing leader in 2017 during his final season with the Kansas City Chiefs.
Taylor Heinicke started for Washington at quarterback in the wild-card round of the playoffs. The 27-year-old was rewarded with a two-year, $4.75 million contract after throwing for 306 yards in the team's one postseason game.
Smith's days as an NFL starter might be over, but he plans to play somewhere next season. Several teams could be in the market for a starter or backup after the offseason QB carousel is complete.
Washington is interested in making a trade for a quarterback, according to NFL Network's Ian Rapport. Several marquee quarterbacks have been in trade rumors ahead of free agency.
Deshaun Watson has asked the Houston Texans for a trade. There's speculation that Russell Wilson might welcome a trade from the Seattle Seahawks.
Carson Wentz, Jared Goff and Matthew Stafford have already been dealt this offseason.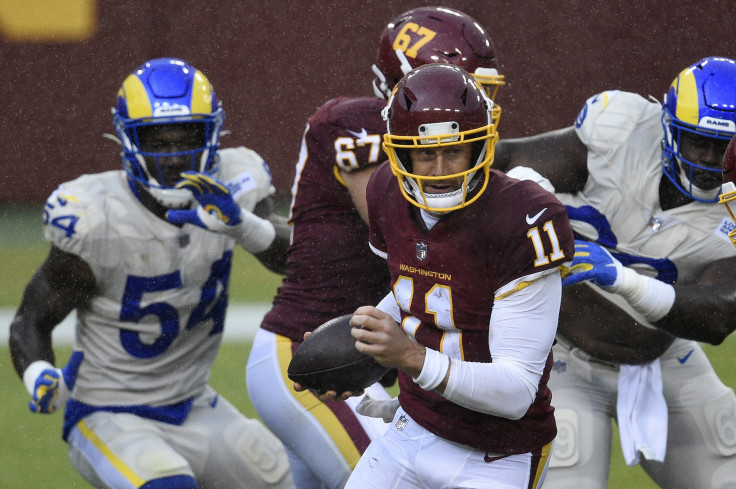 © Copyright IBTimes 2023. All rights reserved.