NFL Standings 2020: Steelers, Chiefs Are Top AFC Contenders After Week 8
A pair of AFC teams are separating themselves from the rest of the conference after NFL Week 8. The defending champion Kansas City Chiefs (7-1) continue to play like the Super Bowl favorites, while the Pittsburgh Steelers (7-0) are the lone undefeated team the 2020 season.
The Baltimore Ravens (5-2) had been previously considered Kansas City's biggest challenger. However, Pittsburgh is proving to be the Chiefs' No.1 threat, sitting alone atop the overall standings. The Steelers extended their lead in the AFC North with a 28-24 victory in Baltimore on Sunday afternoon.
Pittsburgh picked off reigning MVP Lamar Jackson twice and forced him to complete less than half of his passes. The Steelers rank fifth in both total defense and points per game. Both the Chiefs and Steelers have beaten the Ravens this season.
Kansas City cruised to a 35-9 victory over the winless New York Jets (0-8) Sunday, covering the season's biggest point spread. Patrick Mahomes threw for 416 yards and five touchdown passes.
The Chiefs have the biggest division lead of any first-place team in football. Even after the Las Vegas Raiders (4-3) defeated the Cleveland Browns (5-3) on Sunday, Kansas City has a 2.5-game cushion atop the AFC West.
The Buffalo Bills (6-2) are in the driver's seat for their first division title in 25 years, and they might have knocked the defending AFC East champs out of contention in Week 8. After defeating the New England Patriots (2-5) 24-21, the Bills are 3.5 games ahead of Bill Belichek and Co.
The Miami Dolphins (4-3) are still 1.5 games behind Buffalo after defeating the Los Angeles Rams (5-3) 28-17 in rookie quarterback Tua Tagovailoa's first NFL start. Buffalo defeated Miami earlier this year.
The Bills were beaten by both first-place teams they faced in the first half of the season, losing to Kansas City and the Tennessee Titans (5-2).
Tennessee is tied with the Indianapolis Colts (5-2) atop the AFC South, though the tiebreaker currently goes to the Titans. The Cincinnati Bengals (2-5-1) upset Tennessee 30-21 Sunday, handing the Titans their second straight loss after a 5-0 start.
The Ravens, Colts and Browns are currently in position for the AFC's three wild-card spots with nine weeks left in the regular season.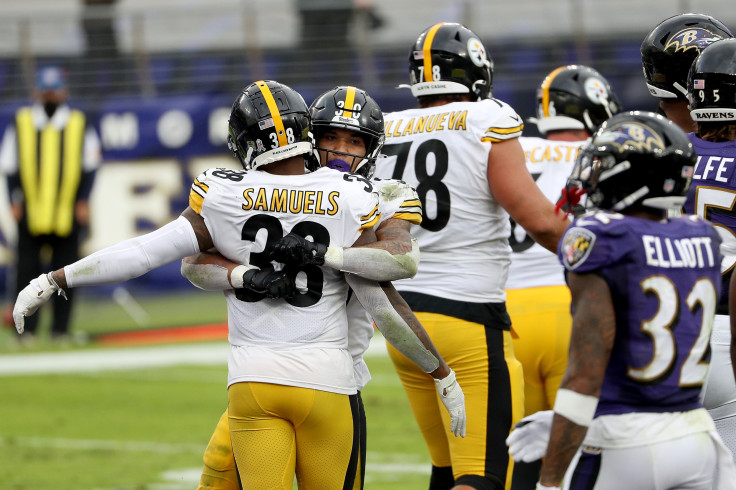 © Copyright IBTimes 2023. All rights reserved.