NFL Trade Rumors: 49ers Considering Former Rookie Of The Year As Safety Precaution
KEY POINTS
The 49ers are exploring Terry Bridgewater even if questions were raised on his fit with San Francisco
Garoppolo's health issues continue to be a concern and are believed to be the reason behind the Bridgewater interest
The 49ers could pay a hefty price if they pursue Bridgwater from Carolina Panthers.
The San Francisco 49ers continue to keep the faith in Jimmy Garoppolo even if NFL rumors are high that he could be on the way out.
Regardless if he is still on board or not, the Niners are not letting their guard down. Hence, it hardly comes as a surprise that they are scratching the surface on possibly trading for Pro Bowler Terry Bridgewater.
According to a report from The Athletic, San Francisco called the Carolina Panthers about a potential trade involving the 28-year-old play-caller.
It was not detailed as to how deep talks went so this may be considered nothing more than exploratory for now.
Disposing of Bridgewater is seen as a likelihood by many--with the Panthers singled out as one of the teams who could make a run at disgruntled player Deshaun Watson.
Though nothing has gone down as of this writing, the consensus is that an NFL trade involving the 25-year-old may go down at some point.
It could happen before the start of the 2021-22 NFL season even if the Texans continue to stand firm on keeping the three-time Pro Bowler.
As far as Bridgewater is concerned, he could make sense for the Niners if Garoppolo continues to struggle with his health or is dealt out.
Despite his injury history, teams like the New England Patriots have been mentioned as a possible landing spot with Kyle Shanahan already mentioning that nothing is set in stone for the 49ers.
But like any other player, there are questions on how Bridgewater would fit the system of Shanahan.
Though he had a formidable season with the Panthers last NFL season, it remains to be seen if the numbers were enough to fulfill the quarterback void that Shanahan wants for the club.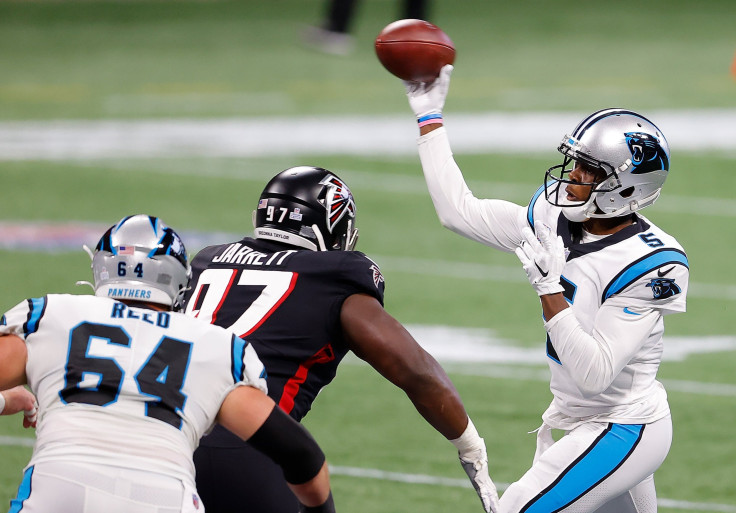 In 15 starts with Carolina, Bridgewater threw for 3,733 yards, 15 touchdowns, and 11 interceptions with a 69.1 percent completion rate.
Worth noting is that he had 7.6 yards per attempt, not exactly remarkable but already a career-high for him. In all, there is work to be done if Bridgewater is to be taken in.
Lastly, there is the $12 million price tag he carries. If the Niners were to trade for him, it may need to include a draft pick to complete.
Again, the 49ers just held talks, but right now it may be better to take all these NFL trade speculations with a grain of salt.
© Copyright IBTimes 2023. All rights reserved.