NFL Trade Rumors: Andy Dalton Unlikely To Be Dealt, Washington Redskins Could Be Free-Agent Suitors
There had been an expectation that the Cincinnati Bengals would trade Andy Dalton and draft Heisman Trophy winner Joe Burrow to become the team's starting quarterback in the 2020 NFL season. With free agency well underway, it's looking less likely that the veteran will be dealt.
ESPN's Dan Graziano said on "Get Up" Monday morning that he doesn't believe Dalton will be traded. The quarterback has one year and $17.5 million left on his contract, making it unlikely that a team will want to give up draft compensation for the veteran.
The New England Patriots and Chicago Bears were considered potential destinations for Dalton. New England appears to be out of play for Dalton after signing Brian Hoyer to potentially compete with Jarrett Stidham for the starting job. The Chicago Bears traded for Nick Foles, who is expected to challenge Mitchell Trubisky atop the depth chart.
Cincinnati will probably release Dalton if the team can't find a trade partner. That would allow a team that's looking for a better backup signal caller to sign the Bengals' quarterback.
Where will Dalton end up? The betting odds suggest the Washington Redskins have the best chance to acquire the 32-year-old.
FanDuel Sportsbook gives both the Redskins and Jacksonville Jaguars +200 odds to sign Dalton, making them co-favorites. Washington is the sole favorite for Dalton at DraftKings Sportsbook with +250 odds.
First-round pick Dwayne Haskins went 2-5 as Washington's starter last season. The rookie threw for 1,365 yards, seven touchdowns, seven interceptions and a 76.1 passer rating.
Colt McCoy has signed with the New York Giants after spending six years as a backup in Washington. Alex Smith is still under contract with the Redskins, but it's unknown if the quarterback will be able to return from a devastating leg injury that he suffered in 2018.
The Los Angeles Chargers are viewed as a possible suitor for Dalton if he hits free agency. Cincinnati could decide to keep the quarterback for another year while Burrow starts.
Dalton had 3,494 passing yards, 16 touchdowns, 14 interceptions and a 78.3 passer rating in 13 starts last season. He had an 89.6 passer rating in 2018 and an 86.6 passer rating in 2017.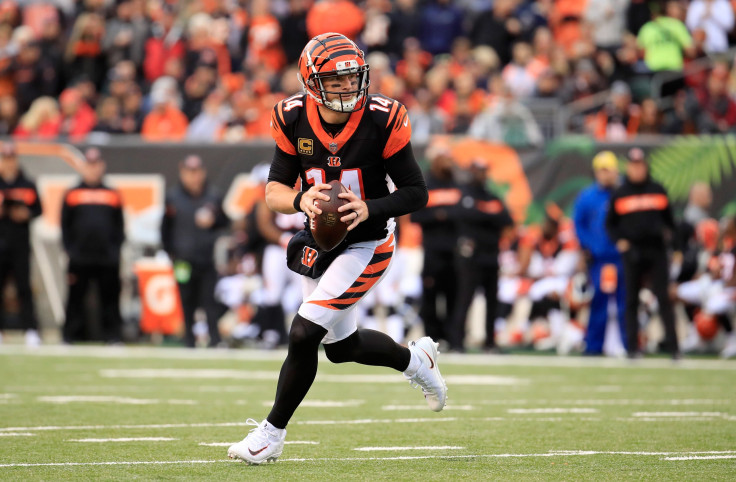 © Copyright IBTimes 2023. All rights reserved.