NFL Trade Rumors: Seattle Seahawks Could Blow Up 'Legion Of Boom'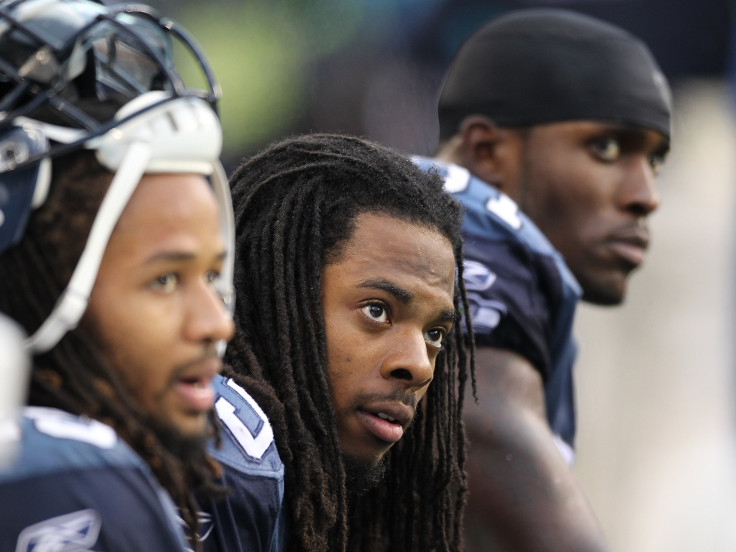 The vaunted Seattle Seahawks' defense could look a lot different in the 2018 NFL season. Michael Bennett has already been traded to the Philadelphia Eagles, and the "Legion of Boom" might have played their last game together as a unit.
Richard Sherman could be the first member of Seattle's secondary to go. Rumors began circulating Wednesday that the cornerback told teammates he didn't expect to return to the Seahawks, and posts on social media by both Seattle cornerback Jeremy Lane and Sherman's own mother indicated that the Pro Bowler would be moving on.
Sherman met with team officials, according to NFL Network's Ian Rapoport, and the Seahawks could explore trading the veteran before they decide to release him. It's unknown what kind of package Seattle could get in return for Sherman, who was forced to undergo two surgeries on his Achilles after suffering a season-ending injury.
Entering the final year of a four-year, $56 million contract, Sherman has a 2018 cap hit of $13.2 million.
Before his 2017 season came to an abrupt end, Sherman had made the Pro Bowl in four straight seasons. Safeties Earl Thomas and Kam Chancellor have a made a combined 10 total Pro Bowls, and the secondary helped Seattle post a top-five defense in every season from 2012-2016.
Thomas has the best chance of the group to return in 2018. He only missed two games last year and made a sixth Pro Bowl appearance, but he's found himself in trade rumors, as well.
Multiple reports claim that the Seahawks will listen to offers regarding the safety, though it might take a lot for Seattle to pull the trigger on a trade. Thomas has a $10.4 million cap hit next season in what will be the final year of his contract.
It's no secret that Thomas is considering going to the Dallas Cowboys as a free agent in 2019. The Seahawks would like to sign him to an extension, according to Rapoport.
Unlike Thomas and Sherman, Chancellor is signed through the 2020 season, but it might not be up to Chancellor or the Seahawks whether the safety comes back in 2018. He suffered a season-ending neck injury in 2017 that could jeopardize his career.
After last season ended, head coach Pete Carroll told 710 ESPN Seattle that Chancellor and defensive end Cliff Avril would "have a hard time playing football again" because of their injuries.
Seattle missed last year's playoffs with a 9-7 record. It marked the first time since the 2011 season that the team didn't win at least one postseason game.
© Copyright IBTimes 2023. All rights reserved.