Nigeria Elections 2015 Date: Postponement Saved Country From Embarrassment, Peoples Democratic Party Says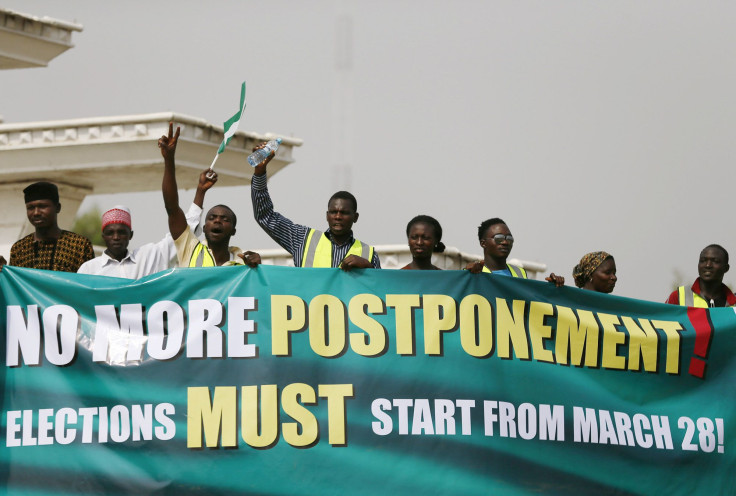 Postponing Nigeria's elections saved the country from embarrassment, the ruling Peoples Democratic Party said in a statement Friday. If they had started last week as scheduled, the elections "would have been chaotic and far from fair and credible," the party said. More than 23 million people who hadn't yet gotten voter cards would have been unable to cast their ballots.
As of Feb. 5, only about 46 million -- or two-thirds -- of the voter identification cards had been distributed, Independent National Electoral Commission chairman Attahiru Jega told Agence France-Presse earlier this month. It shows that "the commission was not truly ready for the election in February in spite of its posturing," the Peoples Democratic Party said Friday.
Nigeria put off its presidential and legislative elections over safety concerns Feb. 7. Though the nation's elections typically inspire violence, the Associated Press reported, the Independent Electoral Commission made the decision because of the presence of Islamist extremist group Boko Haram in the northeast. The militants have reportedly killed 5,000 and displaced 1.5 million people. The elections are set for March 28 and April 11.
The postponement, which the Peoples Democratic Party called "a blessing in disguise," coincided with protests about disenfranchisement. Demonstrators blamed Nigerian President Goodluck Jonathan for not giving out voter cards and said the electoral commission had not hired enough staff.
Voter rights were also the subject of a separate Friday statement from United Nations Secretary-General Ban Ki-moon. He asked relevant national institutions to make sure "all voters can exercise their constitutional right to participate in the elections freely and without intimidation." To achieve this, Ban said Nigerian political leaders should refrain from making inflammatory remarks and quash any violence by their supporters.
Ban also discouraged Nigeria from delaying its elections further. Government officials have said that rescheduling the votes again would be unconstitutional.
© Copyright IBTimes 2023. All rights reserved.