Nigeria President-Elect Buhari Needs Military's Trust To Defeat Boko Haram, Ensure National Security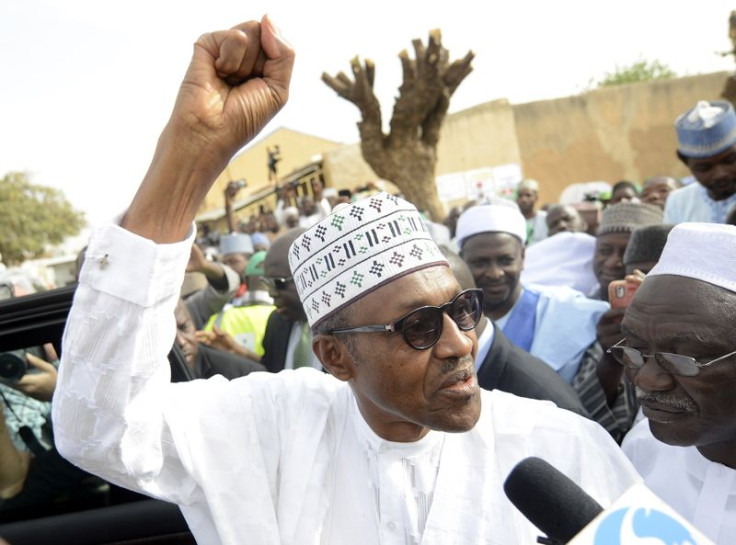 Muhammadu Buhari won over Nigerian voters as a tough-talking old general who promised to crush the Boko Haram insurgency and restore national security. But the former military ruler, whose presidential inauguration takes place Friday, must now figure out how to lead the Nigerian soldiers he derided on the campaign trail, as well as officials handpicked by outgoing President Goodluck Jonathan, his defeated rival.
Even after he won the March 28 election, Buhari continued to slam the Nigerian military for not confronting Boko Haram sooner, as the Islamist militants seized northern territories and killed thousands. "The military has never been so incapacitated like now," Buhari, 72, said in Kaduna state while hosting a forum earlier this month. "This situation is shameful and unacceptable."
But now it is Buhari, who retired from the Nigerian army three decades ago, who will soon be charged with defeating Boko Haram in the north and preventing a resurgence of rebellion in the Niger Delta in the south. If he wants to keep his campaign promises, Buhari must replace top military officers and restore pride to tackle Nigeria's national security issues, experts said.
"Who Jonathan put in place, it's unlikely the new president will be able to work with them," said Elizabeth Donnelly, assistant head and research fellow of the Africa Program at Chatham House, an international affairs think tank in London. "It's critical that Buhari has people in place that he trusts, and clearly many of his peers will have moved on."
Buhari will need to replace senior army officers before taking on Boko Haram, but he has been out of the ranks for decades and has few military connections left. As a major-general, he was one of the military leaders who overthrew a democratically elected government in 1983. Another military coup removed Buhari from power in 1985.
"Most of the service chiefs will be replaced," said John Campbell, the Ralph Bunche senior fellow for Africa policy studies at the Council on Foreign Relations. "He hasn't had any particular connection with the military. The military he interacted with was a previous generation."
The incoming president could tap retired Lt. Gen. Abdulrahman Bello Dambazau, a visiting fellow at the Center for Peace, Democracy and Development at the University of Massachusetts, Boston. Under former President Umaru Musa Yar'Adua, Dambazau served as army chief of staff for four years until 2010. Buhari could also rely on his political party for recommendations on senior military appointments, experts said.
"Of course, it's not just Buhari. He has those in the All Progressives Congress around him who will also have ideas," Donnelly said during a phone interview Wednesday.
With trusted advisers in place, Buhari can begin to transform the Nigerian army, which has been starved of funding under Jonathan's administration. Buhari has criticized the military for relying on "South African mercenaries" to fight Boko Haram before gaining recent success in the war. More than 15,000 people have died and nearly 1.5 million have been displaced in Nigeria since 2009, when Boko Haram launched an insurgency in the northeast.
Nigerian troops have recaptured most territories from Boko Haram in recent months, with the help of coalition forces from neighboring countries. But the militants struck back this week with deadly attacks in Borno state, killing dozens of residents.
Buhari's military experience coupled with a desire to rejuvenate the army will likely help build on the Nigeria's momentum against the insurgents. "This is a military that is likely hungry for a leader that will empower it, that will bring back the respect it has lost," Donnelly said.
Buhari, a northern Muslim, could have another security crisis on his hands in Nigeria's southern oil-producing region, where ex-rebels had threatened renewed attacks if Jonathan lost re-election in March. In 2009, Yar'Adua offered an amnesty deal to thousands of militants, whose vandalism, theft and attacks in the six Niger Delta states had cost Nigeria a third of its oil production. The Movement for the Emancipation of the Niger Delta rebels agreed to lay down their arms in return for an unconditional pardon and stipend.
The amnesty program continued under Jonathan, a southern Christian who won an overwhelming majority of votes in the south. But the deal is slated to expire at the end of May, just as Buhari takes office. It's not yet known whether the incoming administration will extend the program, and ending it probably would enrage the MEND militants who could wreak havoc in the oil-rich south.
"Everyone's kind of waiting and seeing if this is taking off again," said Anna Rosenberg, practice leader for sub-Saharan Africa at Frontier Strategy Group, which advises companies working in emerging markets. "Now the question is, will Buhari stop those payments or is he going to say, no we don't have enough money? That could destabilize the region again."
Buhari will come into office Friday with high expectations and a long to-do list. Some issues such as Nigeria's fuel crisis, government corruption, economic diversification and overspending will take months to address, experts said. But Buhari can start off his tenure strong by ensuring a greater sense of security for Nigerians nationwide by having a united military behind him.
"It's a pretty tall order, don't you think?" Campbell said in a telephone interview Tuesday. "It's one bite at a time."
© Copyright IBTimes 2023. All rights reserved.