Nigeria Violence: Twin Suicide Bombings At Maiduguri Mosque Kill Dozens, Suspicion On Boko Haram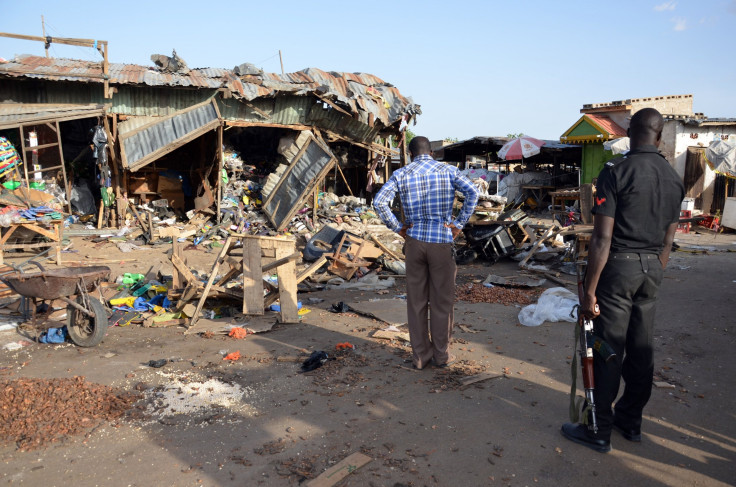 Several worshippers died Thursday in the northeastern Nigerian city of Maiduguri after two suicide bombers detonated inside a mosque. A supporter of security forces fighting the Islamist militant group Boko Haram, Amadu Marte, told the Agence France-Presse (AFP) that they "counted 42 dead bodies outside the mosque," but police officials put the casualty estimates at 14.
Witnesses told AFP that the bombers entered the mosque disguised as worshippers. The first explosion occurred almost as soon as one of the bombers entered. The second bomber detonated soon after while people were rushing to help victims from the first explosion, AFP reported. No group claimed responsibility for the attack yet, but speculations suggested that the bombings might have been conducted by Boko Haram, a group behind numerous attacks in the region.
The mosque reportedly collapsed after the bombs exploded and injured "many people praying," local police said, in a statement, according to AFP, adding: "Casualties have been evacuated to [University of Maiduguri teaching hospital] and specialist hospitals in Maiduguri."
A report by the Associated Press cited a civilian defense fighter, who was helping in rescue efforts, as saying that he counted 26 people dead and 25 wounded. However, a report by the BBC cited an emergency official as saying that at least 30 people died in the explosion.
Earlier this month, Boko Haram, whose name means western education is forbidden, claimed an attack in the outskirts of Nigeria's capital Abuja, which killed at least 18 people and injured 41 others.
On Wednesday, U.S. president Barack Obama said that Washington will send about 300 troops to Nigeria's neighbor Cameroon, to aid intelligence, surveillance and reconnaissance amid growing violence from Boko Haram, which has also been carrying out attacks in Niger, Chad and Benin, along with Cameroon and Nigeria.
At least 17,000 people have been killed so far since Boko Haram, which was founded in 2009, started its attacks in an effort to establish an Islamist state, AFP reported, adding that 2.5 million have been left homeless since the attacks. The militant group came to focus after it kidnapped over 200 girls from a school in Chibok in northeast Nigeria.
© Copyright IBTimes 2023. All rights reserved.
FOLLOW MORE IBT NEWS ON THE BELOW CHANNELS