Nigerian Army Ambushes Boko Haram, Rescues 338 Captives In Sambisa Forest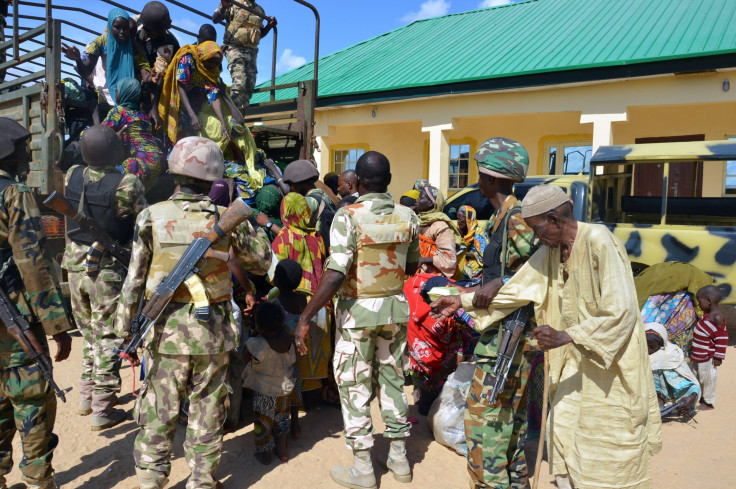 The Nigerian army said Wednesday it rescued 338 people held captive by Boko Haram on the fringes of the Islamic militant group's last stronghold in Sambisa forest in northeast Nigeria. The troops also ambushed a number of suspected terrorist camps in the area and killed dozens of alleged Boko Haram fighters.
"The rescued persons, which comprised eight males, 138 females and 192 children, have since been evacuated," Nigeria's military spokesman Sani Usman said in a statement posted on social media Wednesday, adding that troops also recovered arms and ammunitions during Tuesday's raid.
Sambisa forest, which covers more than 23,000 square miles in northeast Nigeria, is Boko Haram's last remaining stronghold. The vast reserve has become difficult for Nigerian troops to penetrate due to extensive land mines laid by the terror group.
The Nigerian military has increased its offensive into Sambisa and surrounding areas in recent months with airstrikes and additional ground troops. Chief of army staff, Lt. Gen. Tukur Buratai, recently announced the new 29 Task Force Brigade in Borno state, which was strategically established to end Boko Haram's six-year insurgency.
"We have to maintain the momentum to achieve Mr. President's deadline," Buratai said Monday, according to Nigeria's Premium Times newspaper. "We must eradicate insurgency and make Nigeria peaceful."
Since taking office in May, Nigerian President Muhammadu Buhari has vowed to defeat Boko Haram by December. The military has claimed successful rescue and raid operations in recent months against the group, which seeks to overthrow the Nigerian government and create an Islamic state. However, Boko Haram, which has killed thousands and displaced 2.1 million people since 2009, continues to carry out attacks and claim lives.
Suspected members of the Islamic extremist group killed at least 37 people and wounded 107 others last week in Adamawa and Borno states. Boko Haram, which pledged allegiance in March to the Islamic State group, or ISIS, has also been blamed for the deaths of at least 14 people in an overnight attack on a southeast village in neighboring Niger, security sources told Reuters Wednesday.
© Copyright IBTimes 2023. All rights reserved.