Nigerian Village Killings Inflame Religious And Ethnic Tensions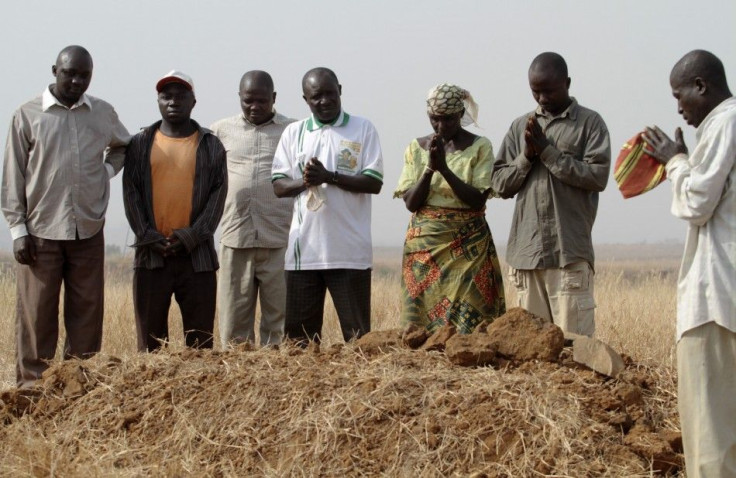 Armed men set fire to a home in a Christian-populated village near the central Nigerian city Jos on Wednesday night and then fired upon the residents as they fled to escape the blaze, killing at least seven and wounding another, local authorities said.
Local police are investigating the killings, which took place in the village of Tahoss, but have not yet commented on the identity of the gunmen.
Mark Lipdo, head of a local Christian advocacy group called the Stefanos Foundation, suspects the attackers were Fulani herdsmen, a Muslim ethnic group who roam the surrounding grasslands, the Associated Press reported. The victims were from a single family of the Berom ethnic group, who are predominantly Christian and agrarian.
The region surrounding Jos has been torn by religious and ethnic tensions between Muslims and Christians that have resulted in thousands of killings over the past decade, though the tensions themselves are rooted in political and economic circumstances.
The region lies within the Nigerian state of Plateau, whose local government is dominated by Christian politicians, who have legislated divisive policies that marginalize Muslims, specifically the denial of citizenship which bars Muslims from entering into local government positions.
The area itself is also economically depressed after the collapse of the local mining and tourist industries, forcing local residents to rely on traditional means of subsistence such as farming and herding. Tensions arise between herders who require pastureland for their cattle and farmers who use it for growing crops, which ultimately lead to violent confrontations and casualties on both sides.
Human Rights Watch reported that, in total, nearly 16,000 people have died in inter-communal, political and sectarian violence in Nigeria since 1999 with 1,000 deaths occurring in Plateau State alone in 2010.
© Copyright IBTimes 2023. All rights reserved.