Nigeria's Jumia: The Company Behind The 'Amazonification' Of Africa
LAGOS, Nigeria -- There's an old saying in Nigeria that one can outfit an entire home in a single drive across Lagos, buying everything from cutlery and furniture to food and decor from the thousands of hawkers that aggressively sell their wares along -- and in the middle of -- the congested city's potholed streets.
Now Nigerians have another option for comprehensive shopping. It's a website called Jumia, and because it's based online, shoppers don't have to brave mind-numbing traffic to get their goods as the budding retail portal handles nearly all the schlepping with its nationwide network of 120 delivery trucks.
Jumia co-founder Tunde Kehinde sat down with the International Business Times at the company's massive Lagos campus earlier this month to discuss the company's humble beginnings, its prodigious growth and the goals and challenges that lie ahead for the site, which is the country's most popular online retailer.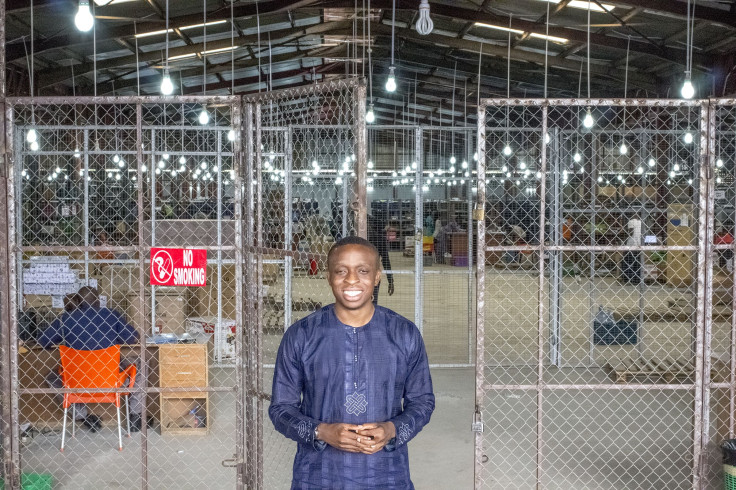 Africa's Amazon
Jumia is not a name known to many Westerners, but it can best be described as Africa's answer to Jeff Bezos' multibillion-dollar Amazon empire, though its tale of ascendancy tracks to a much shorter timeline.
Officially launched under the name Kasuwa in June 2012, the company that was later rebranded as Jumia has definitely captured the attention of investors, as top firms including J.P. Morgan Asset Management and Summit Partners have already backed the start-up to the tune of tens of millions of dollars, though Kehinde declined to discuss its balance sheet.
"We launched in a small conference room in Lagos with initial funding from Rocket Internet, a German tech incubator, and we simply went about getting as many local suppliers as we could and building a quality team to create an amazing shopping experience," said Kehinde, a tall, mild-mannered man who wore dark-blue traditional batik clothing for our interview.
From that low-key start, the company has quickly grown to become a major player in the continent's retail industry, currently offering more than 100,000 different products from computers and books to makeup and clothing to consumers in six countries across Africa.
The company currently promises to deliver any item in its 90,000-square foot central warehouse in the Ikeja district of Lagos to any location in the city within a single day, and anywhere in the entire country within five days.
It's a lofty guarantee, and one that seems to be working fairly well for the company. Though circumstances and travel difficulties occasionally make it impossible for Jumia to fulfill its pledge, the company's commitment to fast service despite the challenges mirrors co-founders Kehinde and Raphael Afaedor's visionary approach to the African market.
Big plans
If Kehinde's dreams come to fruition, Jumia will soon serve the shopping needs of every West African nation and beyond. And if any company can pull off such a feat, it appears Jumia is best placed to do so, as it has exploded from five employees to more than 500 in the short time since its launch, and its Lagos nerve center is now the largest e-commerce campus in Nigeria.
Kehinde's parents are both entrepreneurs, and he says that he "was almost destined at some point to start [his] own business." He and Afaedor are both native Nigerians who travelled to the United States to get top-flight educations -- they both graduated from Harvard Business School -- then returned to their home country to take advantage of the nation's burgeoning business and tech climate.
"The vision of the company is to be the biggest and best retailer -- online or offline -- in West Africa within the foreseeable future," Afaedor said while sitting in the fluorescent-lit offices of Jumia's Lagos headquarters. "To get there, we're going to have to open up more categories of goods and have more physical locations so when people think of shopping in their country, they think of Jumia."
Afaedor sees Jumia at the vanguard of a growing tech commerce industry in West Africa and Nigeria in particular, where many startups have launched in recent years to offer services similar to popular Western websites such as eBay, Seamless, FreshDirect and Hotels.com.
"The good thing is you're seeing more innovation, more entrepreneurs and more job creation with all these ventures coming," he said.
Challenges remain
Despite the bullishness of Kehinde and the international investors who have backed Jumia, the company faces a range of obstacles on the road to becoming the singular, indispensable African online retailer its founders want it to be.
One is the question of its ability to make good on its guarantee to deliver high-quality, well-priced products within set timeframes to any location within its metastasizing distribution area.
Ife, a Lagos businesswoman who asked to be referred to only by her first name, said that her limited experiences with Jumia have not quite lived up to its promises.
When asked during an unrelated interview if she had dealt with the company, she said her boss once ordered a smartphone and several tubes of toothpaste from the website, and when it arrived a day later the package instead included more toothpaste than he had requested and no smartphone. Never mind the fact that she said the price was "was like 10 times higher than it would have been around the corner" at a locally-owned store.
But Ife said the company's impressive costumer service team -- Kehinde said Jumia employs 85 customer service agents -- resolved her issue "quickly and efficiently" and that she will definitely use the site again, as she chalked the snafus up to "growing pains" and said she was satisfied overall. She added that most of her friends have nothing but good things to say about Jumia.
Kehinde acknowledges that other hindrances lie ahead, not least of which are the complications inherent in trying to fulfill Jumia's promise of delivering any item to any place in Nigeria within five days, and other similar pledges in other nations served by the online marketplace.
"Fortunately, most of the orders we get right now are centered in urban areas that are easy to get to, but for the harder-to-reach areas we partner with DHL and other third-party providers," he explained.
"For the most part you can get there if you have a bike of some sort or a car that can maneuver; it's just about knowing the local terrain. If we're not able to get you your item within our delivery promise, we're learning to deal with customer expectations and let them know in a text or email if there may be a more convenient delivery time available."
Despite these relatively minor frustrations, it appears that Jumia is on track to continue to grow into one of the most important and dominant retail operations in Africa. What once required a trek to the market now only requires the click of a mouse or the submission of a form on a smartphone app.
"To be honest, we've grown so fast I don't know if we ever took the time to reflect on it," Kehinde said. "But we just go day by day to continue building an amazing shopping experience."
© Copyright IBTimes 2023. All rights reserved.