Nikkei, Asia Markets Close Mostly Lower Tuesday on Europe Downgrade Concerns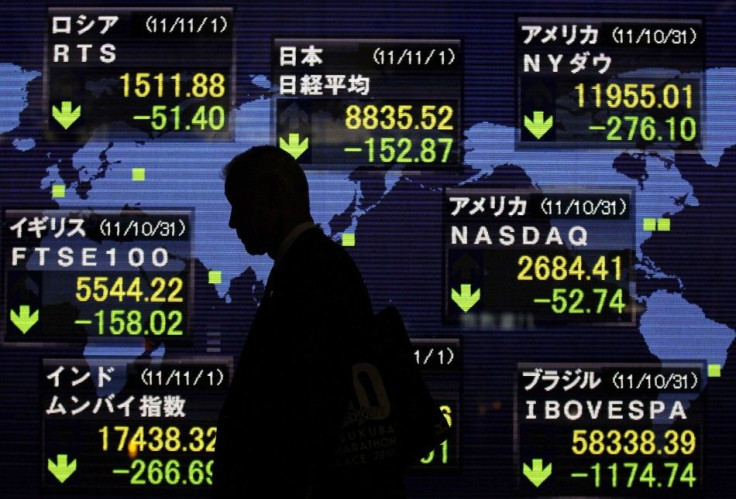 (Reuters) - Most Southeast Asian stock markets fell on Tuesday on fears that any fresh credit rating downgrades in Europe will deal a fresh blow to financial markets and the cooling global economy.
Optimism over last week's European Union agreement on tougher fiscal discipline quickly evaporated after Fitch Ratings said on Monday that leaders had failed to come up with a comprehensive solution to the debt crisis, thereby increasingly short-term pressure on the debt ratings of euro zone countries.

We don't see any near-term solution in Europe, or at least one that will satisfy the market. The recent agreement
that they made is very broad, there weren't any specifics, saidCarey Wong, an analyst at OCBC Investment Research. The devil is in the details. How they are going to execute it? he added.
Moody's Investors Service intends to review EU sovereign ratings in the first quarter of 2012, saying last week's summit offered few new measures. Fitch Ratings said the summit's failure to provide a comprehensive solution would increase short-term pressure on euro zone sovereign ratings.
The Nikkei fell 1.2 percent to 8,552.81, still above its 25-day average near 8,508, after failing to top its 75-day moving average on Monday.
The broader Topix index lost 0.8 percent to 740.71.
Indonesia's benchmark share index fell 0.8 percent, Singapore 0.6 percent, Thailand 0.3 percent and Malaysia 0.1 percent. Vietnam also lost 1 percent.
The Philippines was the only regional market to buck the global downdraft, edging up 0.2 percent.
Investors don't still feel any confirmation on the methods to resolve the debt crisis. These concerns will lingerthroughout this year and next year as well, said Teerada Charnyingyong, a senior strategist at broker Phillip Securities in Bangkok.
Except Jakarta and Hanoi, all other markets saw thin trade compared to their 30-day average volume as continued market uncertainty and the approach of the year-end convinced investors to stick to the sidelines.
Jakarta saw net foreign selling of $87.3 million, the highest since Nov. 10, while Manila saw a $0.2 million foreign outflow, though Kuala Lumpur received a $3.6 million inflow.
In Singapore, Oversea-Chinese Banking Corp fell 1.3 percent, commodities firm Olam International ost 0.9 percent, and shopping mall owner CapitaMalls Asia slumped 2 percent.
Shares of Singapore's subway operator SMRT Corp bucked the weak market with a 1.1 percent gain, as analysts see more commuters switching to trains and buses after the recent fare hike by the country's largest taxi operator
ComfortDelGro.
Financials led the fall in Jakarta with Indonesia's biggest bank by market value Bank Central Asia and the biggest micro lender Bank Rakyat Indonesia falling 1.9 percent and 2.2 percent, respectively, even though Indonesia's economic growth has appeared remarkably resilient in the face of slowing global demand.
In Kuala Lumpur, Malaysian gaming and property company Genting Bhd and financial CIMB Group Holding Berhad led falls with losses of more than 1.5 percent each.
Property firms helped boost Manila shares, however, with Philippine mall developer SM Prime Holdings Inc rising 2.6 percent.
The firm last week said it is planning to raise up to 7 billion Philippine pesos ($162 million) via a syndicated loan in the first quarter to partly fund its 2012 capital spending.

The MSCI's broadest index of Asia Pacific shares outside Japan fell 1.1 percent by 1000 GMT.
(Additional reporting by Mari Saito and Singapore bureau.)
-
© Copyright Thomson Reuters 2023. All rights reserved.