Nintendo's Famicom Mini Console Is Coming To Japan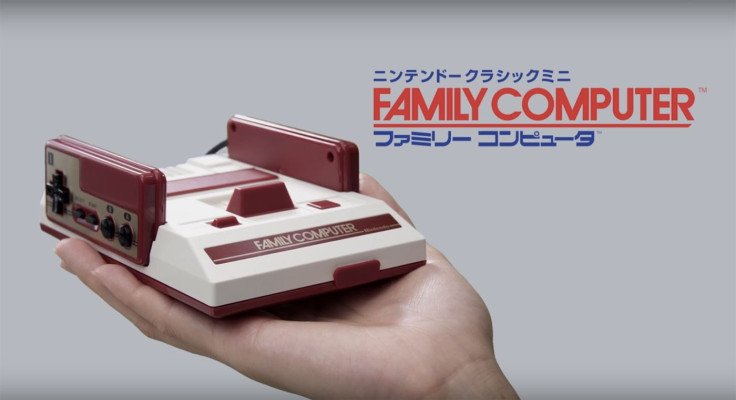 Earlier this summer, Nintendo announced that it will be relaunching its iconic NES console in the U.S. on November 11th. The NES Classic Edition will come with 30 games pre-installed, including classics like Super Mario Bros, The Legend of Zelda, Donkey Kong, and more.
Now, Japanese gamers get to join in on all of the fun because they'll be getting a mini version of the Famicom called the Nintendo Classic Mini: Famicom.
Similar to the NES Classic Mini, the Famicom Mini comes preloaded with 30 games, two wired controllers, but gamers will have to buy the AC adapter separately for $10. The mini Famicom will be available on November 10th, which is a day before the mini NES comes out in the U.S., for $59.
"We wanted to give fans of all ages the opportunity to revisit Nintendo's original system and rediscover why they fell in love with Nintendo in the first place," Nintendo of America President and COO Reggie Fils-Aime said in a statement.
Here's the full list of games:
Donkey Kong
Ghosts'n Goblins
Solomon's Key
Metroid
Castlevania
Zelda II: The Adventure of Link
Tsuppari Ozumo
Super Mario Bros. 3
Ninja Gaiden
Mega Man 2
River City Ransom
Double Dragon II: The Revenge
Super Contra
Final Fantasy III
Dr. Mario
Downtown Nekketsu Koushinkyoku: Soreyukedaiundoukai
Mario Open Golf
Super Mario USA (the US version of Super Mario Bros. 2)
Kirby's Adventure
Mario Bros.
Pac-Man
Excitebike
Balloon Fight
Ice Climber
Galaga
Yie Ar Kung-Fu
Super Mario Bros.
The Legend of Zelda
Atlantis no Nazo
Gradius
Ghosts
© Copyright IBTimes 2023. All rights reserved.
FOLLOW MORE IBT NEWS ON THE BELOW CHANNELS