Nissan In Mexico: Japanese Automaker Exports 5 Millionth Car From Its Mexican Manufacturing Base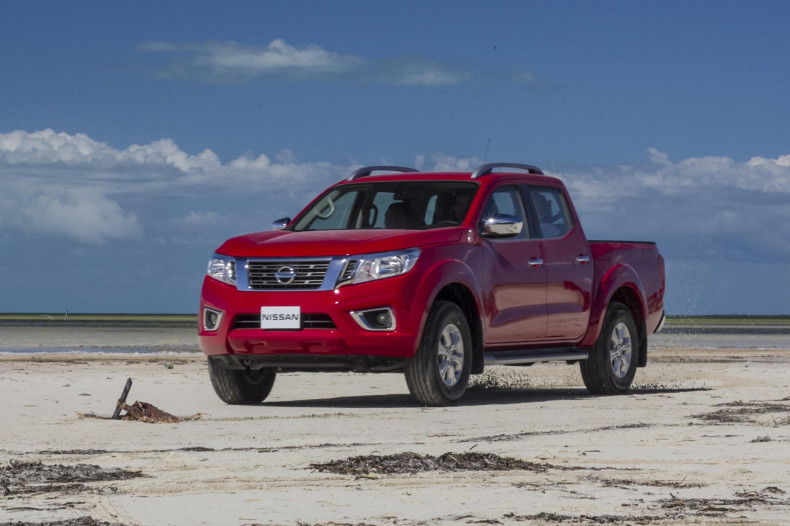 To give you a sense of just how fast Mexico is becoming a major automotive manufacturing hub, consider this: For its first three decades of sending its Mexican-made cars abroad, Nissan exported roughly 33,000 cars and trucks every year. But since 2002, that number has topped 307,000 units annually, a nearly tenfold average annual increase.
On Monday, Nissan announced that a red NP300 pickup truck became its 5 millionth Mexican-made export since the Japanese automaker began sending its vehicles from Mexico to the United States in 1972. That's up from 4 million in 2013, which means the export pace has accelerated to about a half-million cars annually in the past two years.

"Reaching the export of 5 million units confirms the great work done by our manufacturing team," Airton Cousseau, president and CEO of Nissan Mexicana, said in a statement. "The proud work of Mexican labor is reflected in the vehicles we export to over 50 countries."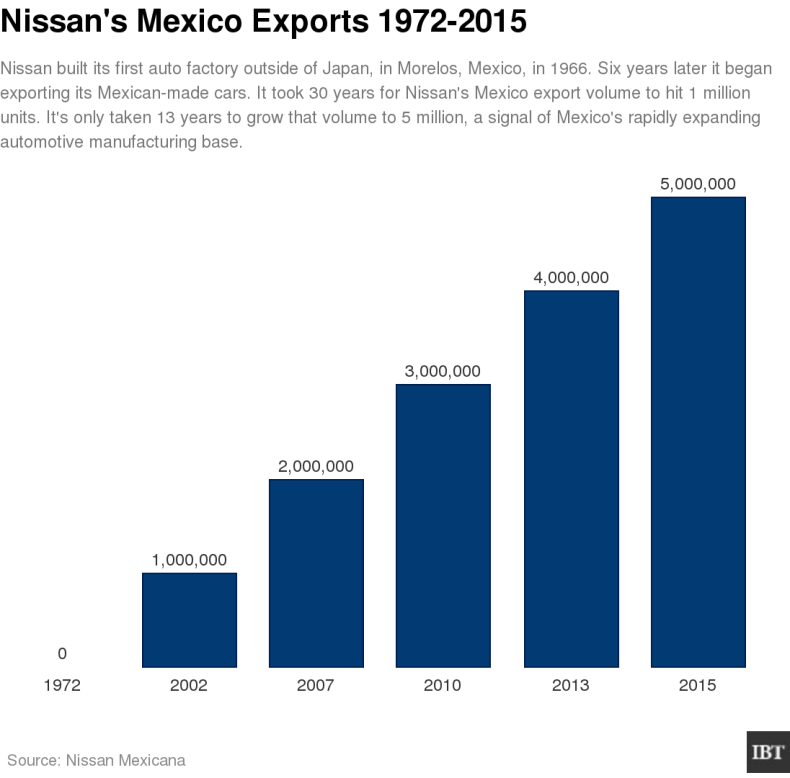 Mexico has been building cars for foreign companies since the 1920s, but the lure of low labor costs and a web of free trade agreements that Mexico has been weaving with partner countries has accelerated the pace of interest from global automakers.
Since 2013, eight major car manufacturers have opened or broken ground on new factories or factory expansions. This year alone, Toyota Motor announced plans to shift Corolla production from Cambridge, Ontario, to a planned $1 billion facility in central Mexico's Guanajuato state. And Ford Motor will open new engine and transmission plants in Guanajuato and Chihuahua state in the north in a $2.5 billion investment deal.
These moves rankle the hides of U.S. unions and politicians who say automakers are shipping jobs to low-cost destinations, which even free-trade proponents acknowledge occurs in some sectors, including manufacturing.
"Ford is building a $2.5 billion plant in Mexico," Republican presidential hopeful and former reality TV star Donald Trump bleated during a Birch Run, Michigan, event last week, taking direct aim at the American automaker in its home state. "I'll actually give them a good idea. Why don't we just let the illegals drive the cars and trucks right into our country?"
Sarcasm aside, Trump's language has appealed to socially conservative opponents of free-trade deals, who like their liberal and moderate counterparts recognize that these agreements encourage manufacturers to ship jobs to trade partners with lower labor costs.
"The North American automobile industry is one of the most compelling cases of economic integration in the world," Tony Payan, director of the Mexico Center at the Baker Institute for Public Policy at Rice University in Houston, told Fox News Latino in an interview last month. "It's a success story, but at the same time it's a darker story about Mexico betting on low wages."
A typical automotive industry worker in Mexico costs about $8 an hour (wages plus benefits), according to the Center for Automotive Research in Ann Arbor, Michigan. That compares to a per-worker cost of roughly $40 to $60 an hour in the U.S. And Mexican auto factory workers make roughly two to five times the average daily minimum wage of about $4.50 per eight-hour shift, according to Center for the Study of Economic and Social Development at the Autonomous University of Puebla data obtained by the New York Times earlier this year. (Mexico's minimum wage is measured per day and varies by region.)
But the other key factor besides low manufacturing costs is the ability for carmakers to export their Mexican-made cars to other countries without paying tariffs than can add thousands of dollars to the final sale price of an imported vehicle. Mexico has agreements with 45 countries, including the key partners like the U.S., the 28-member European Union, Japan and Colombia, where the Nissan NP300, the 5 millionth vehicle, was shipped on Monday from Mexico's port of Veracruz.
© Copyright IBTimes 2022. All rights reserved.