No alternative to F-35 fighter jet, US, Canada say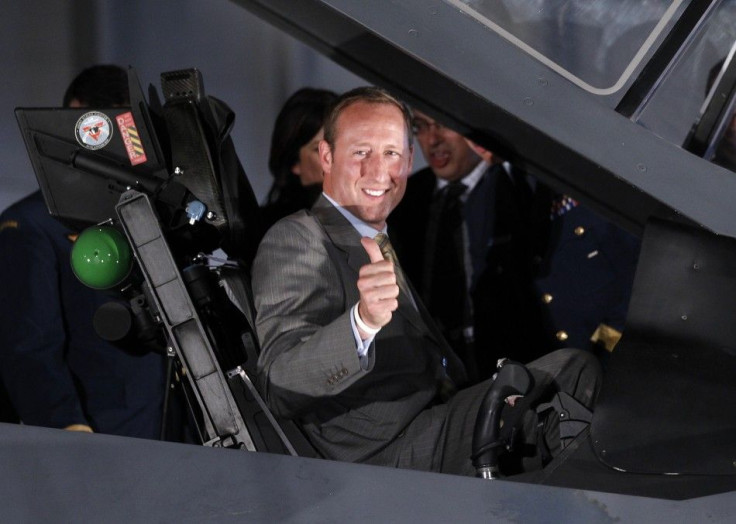 Defense chiefs from the United States and Canada said on Friday that budgetary pressures would not derail development of the F-35 Joint Strike Fighter, saying there was no real alternative to what has become the Pentagon's costliest weapons program.
U.S. Defense Secretary Leon Panetta said flatly he was confident Congress would approve funding for the F-35, which is facing fresh scrutiny for possible cuts as lawmakers weigh how to scale back the U.S. deficit.
Two days ago Canadian Defense Minister Peter MacKay expressed concern about reports of delays in F-35 delivery and said his government was in direct talks with manufacturer Lockheed Martin Corp.
MacKay, speaking to reporters alongside Panetta at a security conference in Halifax, said his country would press ahead with the program.
There is no fifth generation aircraft other than the F-35 available to Canada and the United States. So all of the hypothetical discussions, and negative discussions, quite frankly, about this program are really just clatter and noise, MacKay said. This program is going ahead.
The United States is developing a family of radar-evading F-35s with eight international partners - Canada, Britain, Italy, the Netherlands, Turkey, Australia, Denmark and Norway.
It is projected to cost the United States more than $382 billion to buy a total of 2,447 F-35 models over the next two decades. Other countries, including the co-development partners, are expected to buy roughly another 750 aircraft.
Canada says it plans to buy 65 of the jets, which in theory will start arriving in 2016. It has not yet signed a binding contract.
Panetta acknowledged that the Pentagon was still looking at ways to make the $450 billion in cost-cuts over the next decade, approved by Congress.
But we also have to look to areas where we have to continue to invest for the future. And the F-35 is one of those areas, where we are going to continue to invest for the future, Panetta said.
Panetta's comments appeared predicated on the expectation that Congress would reach a deficit reduction deal before a November 23 deadline.
If a 12-member congressional super committee fails, automatic, across-the-board cuts would kick in. Those would force the Pentagon to slash another $600 billion over the next decade, something that Panetta warned in a letter to Congress this week could affect the F-35 program this week.
This is the fighter plane for the future. And in some ways we really have no alternative, Panetta told reporters in Halifax.
This is the plane that is going to be able to provide the technology, the capabilities for the future. We need to have those. It's true for us. It's true for our partners.
General Martin Dempsey, chairman of the Joint Chiefs of Staff, said in Washington he did not mean to leave the impression during a recent hearing that he was contemplating canceling a version of the F-35.
Dempsey told a congressional hearing last month that in the tight budget environment maintaining three variants of the F-35 creates some fiscal challenges for us and added it's something we'll have to keep an eye on.
He told reporters on Friday that he meant it would be a challenge if the Pentagon was hit with an additional $600 billion in across-the-board cuts, which would slash funding for a proportion of all programs equally.
I didn't have a crosshair on the F-35, Dempsey said. But he added that everyone should understand that an additional across-the-board cut would affect ... everything we do.
© Copyright Thomson Reuters 2023. All rights reserved.