North Carolina vs. Louisville 2015: TV Channel, Live Stream Info, Betting Odds, Prediction For ACC Tourney Game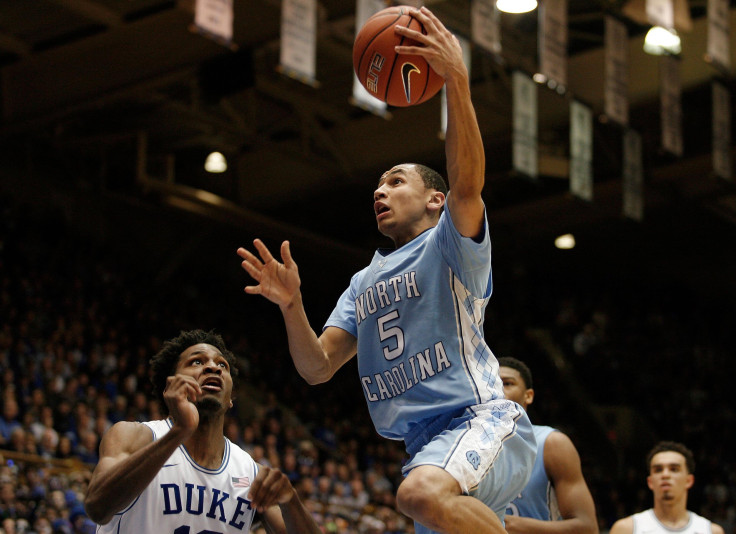 Splitting their two thrilling regular season games, the No. 19 North Carolina Tar Heels and the No. 14 Louisville Cardinals will get their rubber match in Thursday's ACC men's tournament quarterfinal at Greensboro Coliseum in North Carolina.
Posting a better conference and overall record in the regular season, the Cardinals (24-7, 12-6 ACC) earned a free pass to the quarters and some extra rest while the Tar Heels (22-10, 11-7 ACC) needed to overcome Boston College 81-63 Wednesday night in the second round. The winner advances to play either No. 3 Virginia or Florida State, a matchup that tips off earlier at noon ET.
Back on Jan. 10, Tar Heels leading scorer and guard Marcus Paige shook off an injured foot to engineer a 13-point comeback, and knocked won a layup with 8.5 seconds remaining to down Louisville 72-71.
But the Cardinals would slap together their own comeback and avenge that narrow loss behind a 22-point, 15-rebound performance from junior forward Montrezl Harrell for a 78-68 overtime win three weeks later.
Speaking after the win over BC, Paige lamented on the loss but admitted just how tight each side has played this season.
"They probably should have beaten us at home, and we probably should have beaten them at the Yum! Center," Paige said to The Courier-Journal. "We were up 18 and they wanted it more than us — basically took the game from us."
The Tar Heels would go on to lose three of their four next games, but came up with big road wins over Miami and Georgia Tech to stay near the top of the conference.
Louisville followed up with a 63-55 win at Miami, and nearly overthrew Virginia 52-47, and then won that rematch 59-27 to close the regular season, handing the Cavaliers just their second loss of the year.
Unless they meet again in the NCAA Tournament later this month, Thursday's game figures to settle the score for this season between the two sides.
The Harheels enter the game with their two best scorers hot. Paige and running mate forward Brice Johnson each netted 17 points against BC, and Paige also dished out nine assists.
But the Cardinals defense has been among the best in the conference, allowing opponents to shoot 41.5 percent from the field and only 62.8 points per game.
They also boast sophomore guard Terry Rozier, who's third in the ACC with 17 points per game, and Harrell's third in the conference in shooting, registering 57 percent from the field. Both Harrell and Rozier were also named to the All-ACC second team earlier this week.
Start Time: 2 p.m. ET
TV Channel: ESPN
Live Online Stream: A live online stream is available at Watch ESPN here
Betting Odds: UNC -2.5
Over/Under: 138 points
Prediction: Louisville over North Carolina, 64-60
© Copyright IBTimes 2023. All rights reserved.