North Carolina vs. Virginia 2015: TV Channel, Live Stream Info, Betting Odds, Prediction For ACC Tourney Game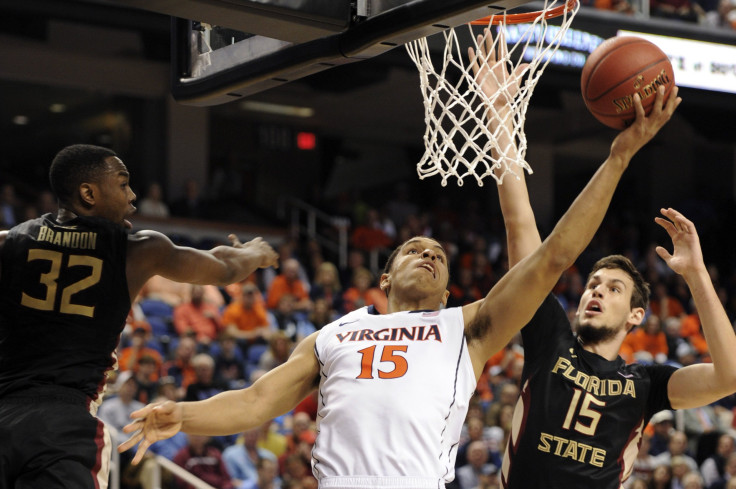 Breaking a 21-year drought without an ACC tourney semifinal matchup, the No. 3 Virginia Cavaliers and No. 19 North Carolina Tar Heels will duel in Friday night's ACC men's basketball semifinal at Greensboro Coliseum in North Carolina.
The victor advances to play either No. 2 Duke or No. 11 Notre Dame in the championship game Saturday.
Vying for a No. 1 seed in next week's NCCA Tournament, the Cavaliers (29-2, 16-2) last met North Carolina in the 1993 ACC semifinals, losing 74-56. But this year, Virginia boasts the higher ranking and better defensive squad, and seek a second straight trip to the tournament's final.
Led by 11 points apiece from forwards Evan Nolte and Mike Tobey, and another 10 from leading-scorer and guard Malcolm Brogdon, Virginia largely rolled past Florida State, 58-44, in the quarterfinals Thursday.
Flashing that familiar defensive grit, the Cavaliers held FSU to 32.6 percent shooting from the floor, and 17.6 percent from beyond the arc, and forward Anthony Gill notching three of the team's five steals on the game.
The Tar Heels no doubt remember the Virginia defense that forced 13 turnovers and held them to nine total three-point attempts in Feb. 2's 75-64 loss. Brogdon scored a game-high 17 points, and Gill came off the bench to score 13 points.
North Carolina point guard Marcus Paige would rack-up a team-high 15 points and four assists in the loss, and forward Brice Johnson chipped in another 14 points, but forward Kennedy Meeks' six turnovers severely limited the Tar Heels chances of an upset.
North Carolina enters with a good amount of confidence after bouncing No. 14 Louisville in the quarters in convincing fashion, 70-60. Johnson totaled 22 points and seven rebounds, his second 20-point game in the last five, and Paige added 13 points and five assists.
Meeks returned from a one-game absence, missing the opening-round victory over Boston College, and contributed a clutch nine points, five rebounds and two blocks in 19 minutes off the bench.
Start Time: 7 p.m. ET
TV Channel: ESPN
Live Online Stream: A live online stream is available at Watch ESPN here
Betting Odds: Virginia -4.5
Over/Under: 124 points
Prediction: Virginia over North Carolina, 69-60
© Copyright IBTimes 2023. All rights reserved.