North Carolina's Anti-Gay Union Measure Up For Vote After Final Campaign Push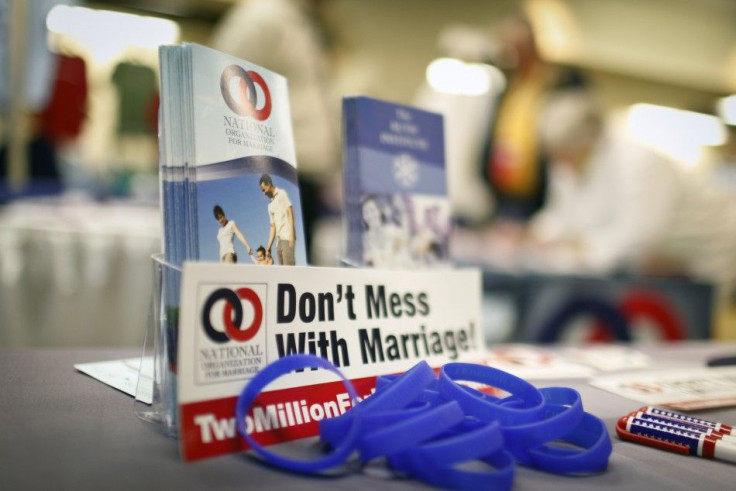 North Carolinians are set to pass a constitutional amendment Tuesday banning same-sex unions.
After a weekend of last-minute campaigning, voters will head to the polls on a ballot measure that could go farther than outlawing gay marriages, which are already prohibited in North Carolina. Unlike other states with anti-gay marriage amendments, this proposed measure says a marriage between man and woman will be the only domestic legal union in the state, meaning domestic partnerships and civil unions for all couples would be invalid.
The final poll of the campaign shows the referendum is popular among North Carolina voters, who support the measure 55 - 39 percent, according to Public Policy Polling, a Democratic-affiliated firm based in Raleigh.
Opponents of the amendment had an uphill battle in convincing voters that it was anything other than a referendum on gay marriage, even though it does go a lot further than that, said PPP's Tom Jensen told the Raleigh News & Observer.
Over the weekend, campaigns made their final push ahead of Tuesday's vote. Opponents of the measure landed a robo-call ad from former President Bill Clinton, who said the amendment would damage North Carolina's business climate and hurt families, according to CNN.
If it passes, it won't change North Carolina's law on marriage, says Clinton, who is now a supporter of same-sex marriage. What it will change is North Carolina's ability to keep good businesses, attract new jobs, and attract and keep talented entrepreneurs.
Rev. Billy Graham lent his name to the effort to pass the amendment. The famed 93-year-old evangelist appeared in a full-page newspaper ad that ran over the weekend urging voters to back the amendment, writing, the Bible is clear - God's definition of marriage is between a man and a woman.
© Copyright IBTimes 2023. All rights reserved.