Starbucks Gets Huge Thank You From Gay Marriage Supporters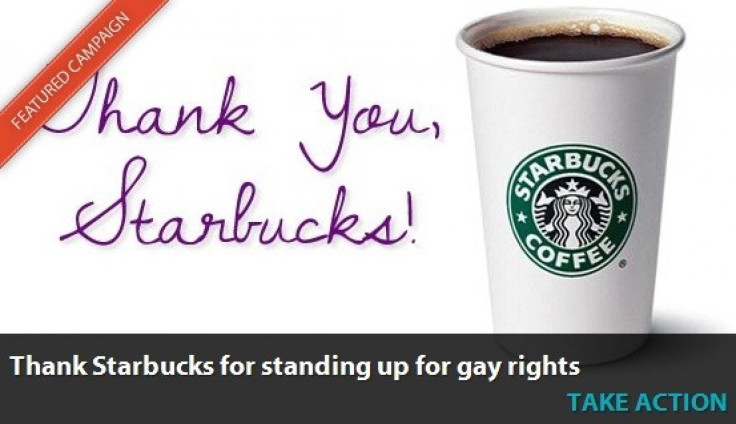 Starbucks got a huge thank you from gay marriage supporters on Wednesday in response to the company's support for same-sex marriage.
Dozens of gay marriage proponents showed up Wednesday at Starbucks headquarters in Seattle to hand-deliver a gigantic thank-you card with more than 650,000 signatures to the company for its steadfast support of the issue, according to NPR.
James Olson, vice president of global corporate communications, who accepted the card on behalf of the company:
We are long-standing supporters of a culture of diversity, and inclusion and equality for everybody, and I'll share this with our fellow leaders and partners, Olson said, according to NPR. Thank you very much.
The campaign to gain signatures for the card was organized by the advocacy groups MoveOn.org, Washington United for Marriage and SumOfUs.org, whose executive director Taren Stinebrickner-Kauffman said it was SumofUs.org's most viral campaign ever.
We've seen in our campaigns that consumers expect corporations to do right by their workers and by their community, Stinebrickner-Kauffman said. We hope that this overwhelming show of support for Starbucks for supporting gay rights will inspire other corporations to keep making similar public statements.
The Thank Starbucks campaign is a response to an attack on the coffee shop chain by the National Organization for Marriage, which created the Dump Starbucks website, which states the following:
We are urging customers across the globe to 'Dump Starbucks' because it has taken a corporate-wide position that the definition of marriage between one man and one woman should be eliminated and that same-sex marriage should become equally 'normal'. As such, Starbucks has deeply offended at least half its U.S. customers, and the vast majority of its international customers.
Starbucks CEO Howard Schultz said in March that the company chose to support gay marriage in our view, through the lens of humanity, and being the kind of company that embraces diversity.
Starbucks is one of the most prominent socially conscious major corporations in the nation, as it has worked to help spread fair trade practices in developing countries and has recently begun a campaign to help create jobs in America.
© Copyright IBTimes 2023. All rights reserved.