North Korea Cancels UN Chief Ban Ki-Moon's Visit In 'Deeply Regrettable' Move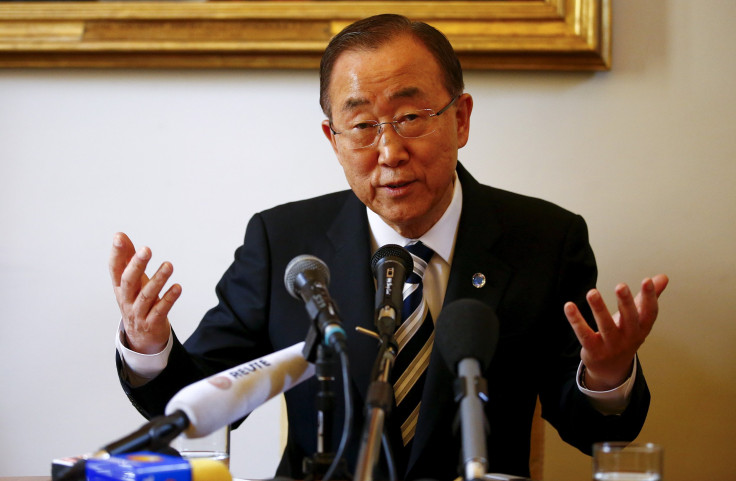 United Nations Secretary-General Ban Ki-moon said Wednesday that North Korea has called off his planned trip to the country to visit an industrial complex, a day before he was due to arrive in the country. Ban, who would have been the first U.N. chief to visit North Korea since Boutros Boutros-Ghali in 1993, called Pyongyang's move "deeply regrettable."
Ban was scheduled to meet South Korean businesses and North Korean workers inside the Kaesong industrial park, which is jointly run by the two Koreas. The complex, located north of the Korean border, has been a legal source of foreign currency for the North since it was established in 2004, the Associated Press (AP) reported.
"Early this morning, the authorities of the Democratic People's Republic of Korea informed us, through their diplomatic channels, that they were reversing their decision for me to visit the Kaesong industrial complex," Reuters quoted Ban as saying at a forum in Seoul. "No explanation was given for this last-minute change."
The U.N. chief was supposed to visit the factory complex to help promote reconciliation between North and South Korea, which have seen a worsening of relations in recent weeks.
"As U.N. secretary-general, I will not spare any effort to urge North Korea to cooperate with the international community for the Korean Peninsula and for peace and stability," South Korea's Yonhap quoted Ban as saying on Tuesday.
Some analysts said that Pyongyang abruptly called off Ban's visit because it did not expect the visit to bring any major breakthroughs. North Korea, which has previously invited high-profile figures such as former U.S. President Jimmy Carter, apparently thinks that Ban, a former South Korean foreign minister, would be partial to the views of Seoul and Washington, AP reported, citing Lim Eul Chul, a North Korea expert at South Korea's Kyungnam University.
"I think North Korea has concluded Ban's visit won't be helpful for them," Lim told AP.
Relations between North and South Korea have deteriorated in recent weeks over Pyongyang's testing of missiles and other weapons, which Seoul considers as provocations. Responding to North Korea's recent underwater ballistic missile tests, South Korea had said earlier this month that it would retaliate "mercilessly." Meanwhile, the North has consistently objected to joint military drills conducted by American and South Korean troops in the region.
Tensions escalated last week after the South Korean National Intelligence Service said that North Korean leader Kim Jong Un had his defense minister, Hyon Yong-Chol, executed by large-caliber anti-aircraft guns on April 30.
© Copyright IBTimes 2023. All rights reserved.