North Korea Claims To Have 'Modern' Weapons Capable Of 'Defeating' US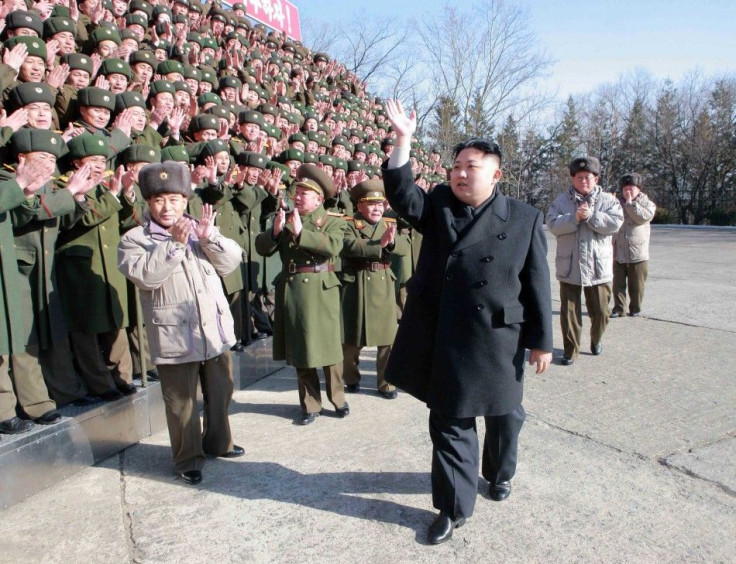 A senior North Korean military officer has claimed that Pyongyang is equipped with powerful modern weapons capable of defeating the US. This declaration coincides with speculation that the reclusive Asian nation may be planning to conduct a nuclear test, following its failed rocket launch on April 13.
Vice Marshal Ri Yong Ho has claimed his nation is a nuclear and military power and that its 20-something leader Kim Jong Un is a military strategist.
The Korean People's Army is armed with powerful modern weapons... that can defeat the imperialists (US) at a single blow, he told in a meeting attended by party and military officials Wednesday, the Associated Press reported. The chief didn't disclose any further details about the weapons.
The closed meeting at the House of Culture, attended by Kim Jong Un, the third from the Kim dynasty to rule North Korea, marked the 80th anniversary of the army's founding.
Pyongyang drew heavy international criticism when it decided to test a long-range missile on April 13, reportedly aimed at boosting its defense to develop an intercontinental ballistic missile capable of striking the US. North's ambitious attempt to launch the Unha-3 rocket failed when it broke apart shortly after takeoff.
Speculation is rife that North Korea is nearing completion of preparations to test a nuclear device for the third time after two attempts in 2006 and 2009, an unnamed source with close ties to Pyongyang and Beijing told Reuters.
Observers have said that North Korea may have developed the capabilities to test a nuclear weapon using highly enriched uranium, which has raised concerns in Washington, Seoul and Tokyo.
The source didn't specify whether uranium or a limited supply of plutonium would be used in the test.
US Secretary of Defense Leon Panetta, speaking to reporters during a trip to Brasilia, said he had no specific information on whether North Korea would go ahead with a test, Reuters reported.
But I again would strongly urge them not to engage in any kind of provocation - be it nuclear testing or any other act - that would provide greater instability in a dangerous part of the world, he said.
Beijing has, meanwhile, shifted its stance regarding Pyongyang's widely panned rocket launch. China's senior-most diplomat showered praise on Kim Jong-Un and promised to strengthen ties with North Korea in a meeting with Kim Yong-il, the Korean Workers' Party director of international affairs, Sunday.
The traditional friendship between China and North Korea is a precious treasure for our two parties, two countries and our peoples, Dai told Kim Yong-il, who visited Beijing. China is willing to work with North Korea to take friendly cooperation to new heights.
China, considered North's biggest ally, had condemned the launch along with other world powers in a United Nations Security Council (UNSC) statement, but has been ignoring calls for harsher sanctions on the North Korean regime.
Panetta told US lawmakers last week that China had assisted in North Korea's missile program, but said he did not know the exact extent of that.
However, Chinese Foreign Ministry spokesman Liu Weimin denied the US claims, saying that China is always against the proliferation of weapons of mass destruction and the carrier equipment of such weapons.
© Copyright IBTimes 2023. All rights reserved.