North Korea Marks 70th Anniversary Of Ruling Party With Huge Military Parade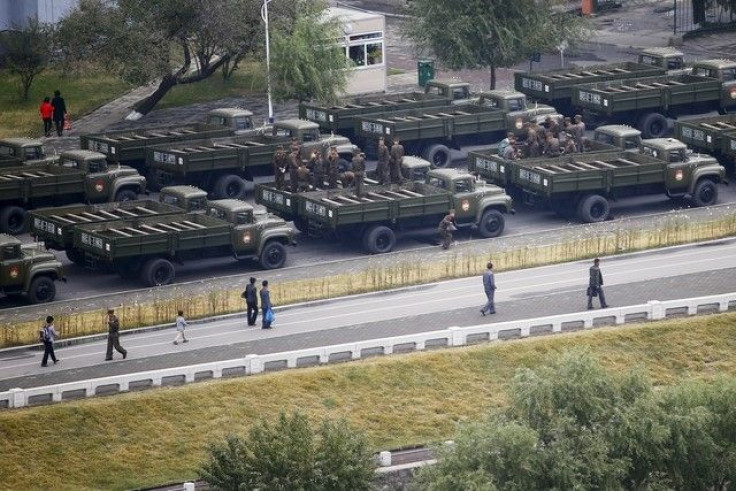 North Korea marked the 70th anniversary of the ruling Workers' Party with what is believed to be its largest ever official celebration Saturday. The event saw thousands of troops, military vehicles and missiles paraded through Pyongyang's main Kim Il-sung Square.
The country's supreme leader, Kim Jong Un, marked the anniversary by paying respects to his late father and grandfather, both of whom led the party and the country during their time. In an address at the event, he said the country was prepared for a military conflict with the United States.
"The party's revolutionary armament means we are ready to fight any kind of war waged by the U.S. imperialists," Kim said, according to a BBC report.
Overseas defense and military analysts will likely be closely scrutinizing the display of North Korea's military equipment, particularly its long-range missiles and drone aircraft.
The scale of the parade was already apparent from satellite images taken four days before, which showed a sprawling training ground in Pyongyang featuring some 800 tents, 700 trucks and 200 armored vehicles, according to Agence France-Presse.
While tourists and foreign media, both of whom are normally subject to extremely stringent restrictions, have been invited into the country to cover the event, foreign leaders have not come with them. The only overseas dignitary in attendance Saturday was Liu Yunshan, a senior member of China's ruling Communist Party.
Chinese President Xi Jinping sent a letter to Kim to mark the occasion, which said that China wanted to strengthen ties with the reclusive state, which is subject to international sanctions as a result of its nuclear weapons program.
"The Chinese side is willing to seek closer communication and deepen cooperation, pushing for a long-term, healthy and stable development of the Sino-DPRK ties," Xi said in the letter cited by Xinhua News Agency, referring to North Korea by its official name, the Democratic People's Republic of Korea.
Liu reiterated China's position that it wanted an early resumption of the so-called six-party talks aimed at reining in North Korea's nuclear ambitions, Reuters reported.
© Copyright IBTimes 2023. All rights reserved.