North Korea Sanctions Update: New Restrictions Include Harshest Measures Yet On Kim Jong Un's Regime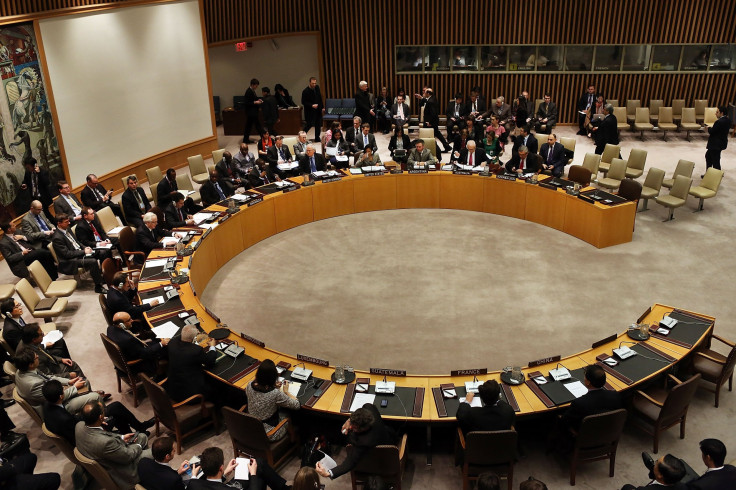 A bill awaiting U.N. Security Council approval this weekend would set some of the harshest trade restrictions yet on North Korea. The draft bill requires all cargo in and out of the East Asian nation be inspected and places a ban on some of the country's exports, including coal, iron, gold, titanium and rare earth minerals, Korea Times reported. It would also prohibit North Korea from importing aviation fuel, which includes fuel needed for rockets.
"These will be the most powerful U.N. sanctions on North Korea by far," a South Korean official, who spoke on condition of anonymity, told the newspaper. "It will be critical to implement the resolution in cooperation with China and other neighboring countries."
South Korean officials voiced optimism the draft bill would pressure the North's regime to end its pursuit of advanced missile and nuclear technology. The bill was brought forward by the U.S., with backing from China, both members of the U.N. Security Council that have not traditionally seen eye-to-eye on international politics. South Korean officials said the bill was likely to push Pyongyang into joining denuclearization negotiations.
North Korea has faced U.N. sanctions since 2006 as the international community has sought to divert the country's nuclear program. Pyongyang is currently banned from import and export of nuclear and missile technology as well as luxury goods. China has generally emphasized dialogue with North Korea while the U.S. has typically urged harsher punitive measures.
U.S. Ambassador to the U.N. Samantha Power said such sanctions, "if adopted, would send an unambiguous and unyielding message to the DPRK regime," the BBC reported. "The world will not accept your proliferation. There will be consequences for your actions."
Tensions have risen in recent weeks following the North's nuclear test and long-range rocket launch last month. In response, the U.S. and South Korea prepared for their annual joint military exercises, which were expected to be bigger than in previous years. North Korean media and officials lashed out against the planned joint drill, alleging it was a form of Western aggression.
The country's leadership is among the world's most autocratic and corrupt. Human rights groups have routinely criticized Kim Jong Un, his father and grandfather for suppression of basic rights, including free speech, and carrying out egregious human rights abuses.
© Copyright IBTimes 2023. All rights reserved.