North Korea Threatens US Base With Nukes: Kim Jong Un Regime Warns Of 'Uncontrollable' Nuclear War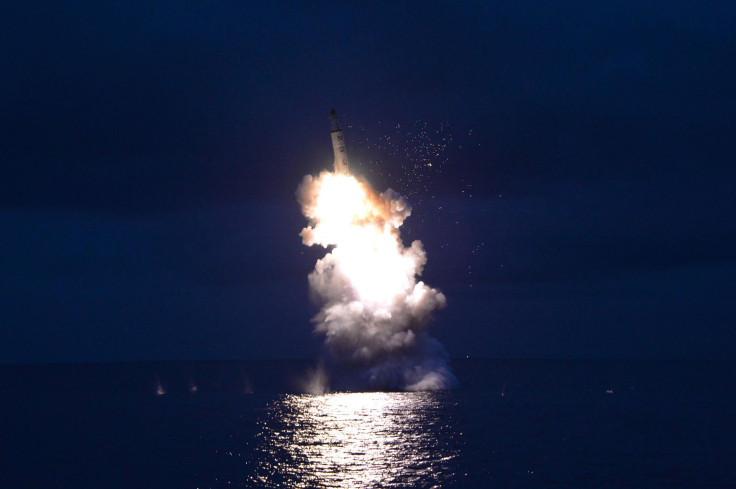 North Korea threatened Seoul and a United States' base in Guam with a nuclear warhead attack Friday after South Korea spent the past week cozying up to the U.S. military. A North Korean army spokesman announced via the country's official news agency that the allies' recent military drills have put the Korean peninsula on the brink of nuclear war.
The "provocations have pushed the situation on the Korean peninsula to the uncontrollable and irreversible phase of the outbreak of nuclear war," the statement said. The statement also threatened the U.S.'s naval base in Guam if it and South Korea continued its recent actions.
The threat comes after recent nuclear and missile tests in North Korea under authoritarian Kim Jong Un and several displays of unity by the South and the U.S. The U.S. flew two of its B-1 bombers with South Korean escorts from a base Wednesday in Guam to the Osan airbase roughly 40 miles south of Seoul, the closest any such U.S. military aircraft has flown next to the North. South Korea and Washington also announced plans to conduct a mock attack on a nuclear facility next month, while South Korea's defense minister said a plan involving a special-forces unit was already in place to take out the North's leadership (including Kim) if a nuclear attack appeared certain.
North Korea successfully tested a nuclear warhead on Sept. 9 for the second time this year and overall has completed five such tests. North Korea also completed a long-range missile ground test earlier this week and claimed it will help launch a satellite into orbit rather than give the communist nation capability to attack others with a nuclear device.
The back-and-forth this week coincides with the United Nations General Assembly taking place in New York. On Friday, Secretary of State John Kerry is expected to meet with foreign ministers from the Association of South Asian Nations to discuss threats from North Korea, according to CNN.
North Korea has threatened the U.S. and South Korea many times before, and this most recent threat is at least the third this year. The last came in July when the U.S. and South Korea announced its final plans to deploy Terminal High Altitude Defense, an anti-missile system capable of knocking "short, medium, and intermediate ballistic missiles" out of the sky, CNN reported.
© Copyright IBTimes 2023. All rights reserved.