North Korea Warns Of 'Merciless Punishment' Against Proposed Office To Monitor Human Rights Issues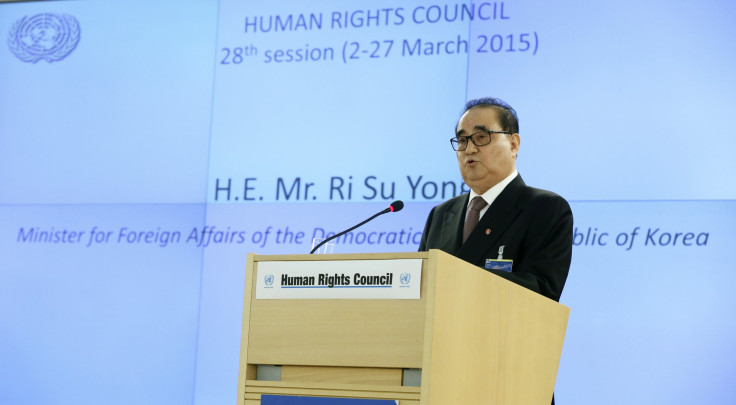 North Korea has threatened "merciless punishment" if the South goes ahead with its plans of opening a United Nations field office in Seoul to monitor the former's human rights record. The suggestion of opening the U.N. field office came last year after a report concluded that Pyongyang was committing human rights violations, and recommended referring the violations to the International Criminal Court, Agence France-Presse (AFP) reported.
In a statement late Monday, the Committee for Peaceful Reunification of Korea (CPRK), which is in charge of inter-Korean affairs, said, that it will not sit back and watch the opening of the office, Arirang News reported. The committee reportedly added that South Korea would be making an unforgivable provocation against the North's dignity if it proceeded with the plan. The U.N. office is expected to open in the second quarter, Arirang News reported, citing the U.N.'s Office of the High Commissioner for Human Rights.
"As soon as the nest for an anti-DPRK (North Korea) smear campaign is in place in the South, it will immediately become the target for our merciless punishment," the CPRK said, in a statement carried by state-run KCNA, AFP reported.
North Korea, which has refuted the claims made in the U.N. report, added that the South was committing a "heinous crime" by provoking international ire against the North's human rights record. North Korea, which is widely believed to be one of the world's worst human rights offenders, has denied the claims and called them a work of fiction created by the U.S. and its allies. The report had formed the basis of a U.N. General Assembly resolution, which recommended that North Korea be referred to the International Criminal Court.
On Saturday, North Korea also rejected a U.N. resolution that urged it to improve its human rights record.
"Maneuvers by the U.S. and other hostile forces that are seeking to slander our people-oriented socialist regime and isolate our nation are becoming more vicious," a spokesperson for the North's foreign ministry, said, in a statement in KCNA, according to Yonhap. "We firmly reject the so-called resolution adopted at the U.N. Human Rights Council as an outcome of anti-DPRK campaign by hostile forces in the U.S. and again affirm our firm determination to thoroughly destroy the fanatic anti-DRPK campaign."
© Copyright IBTimes 2023. All rights reserved.