North Korean Ship Chong Chon Gang, Stopped For Carrying Undeclared Warfare, Still Stalled In Panama; Pyongyang Refuses To Pay Fine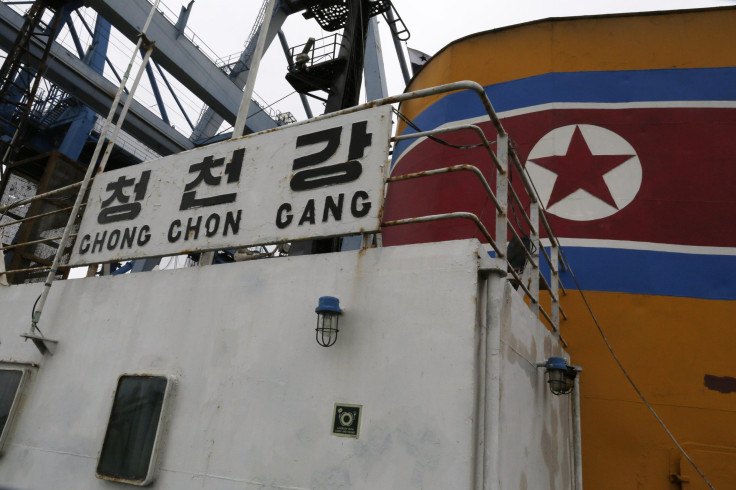 North Korean ship Chong Chon Gang made headlines in July when authorities discovered warplanes and missiles hidden in a cargo hold amid 10,000 tons of sugar – weapons that had not been declared at any of the stops along the boat's route in the Caribbean, including Cuba, where the ship departed from. The case, which represents a violation of the sanctions imposed by the United Nations on North Korea in 2006, called for the intervention of several diplomats and threatened the fragile start of renewed relations between Washington and Havana.
The debacle is far from over. The ship is still stuck in Panama, since North Korea refuses to pay the fine imposed by the Autoridad del Canal de Panamá (Panama Canal's Authority, or ACP). The institution fined the ship when it tried to cross the Panama Canal without reporting the weapons it carried, thus violating the safety protocol.
The seven diplomats sent by North Korea to discuss the release of the ship's crew refused to pay the $1 million fine, and even rejected Panama's condition to pay a deposit of $670,000 for their crew to be set free. According to Panamanian lawyer Julio Berríos, who is representing the North Korean ship crew, the diplomats will not consider meeting the requirement until they are granted access to the defendant's files.
Panama has confirmed that, once the deposit is paid, 32 of the crew members will be released – but not the captain, the second-in-command nor the crew's leader, who had knowledge of the weapons being carried in the ship.
North Korea's argument for carrying the weapons, which in fact belong to Cuba, is that they are obsolete and carry no actual threat. The several fighter jets, which date from the 1950s, were being taken to North Korea, an ally of Havana, to be repaired. The U.N. Security Council has yet to hand down a decision.
U.S. Vice President Joe Biden, who visited Panama on Tuesday, backed the country's government in the issue, arguing that carrying undeclared weapons is a violation against Washington's sanctions against North Korea.
© Copyright IBTimes 2022. All rights reserved.
FOLLOW MORE IBT NEWS ON THE BELOW CHANNELS