North Korea's Kim Jong Un Orders Military To Kill South Korean Leaders: With Wife Missing And Elderly Committing Suicide, Pyongyang Turns To Violence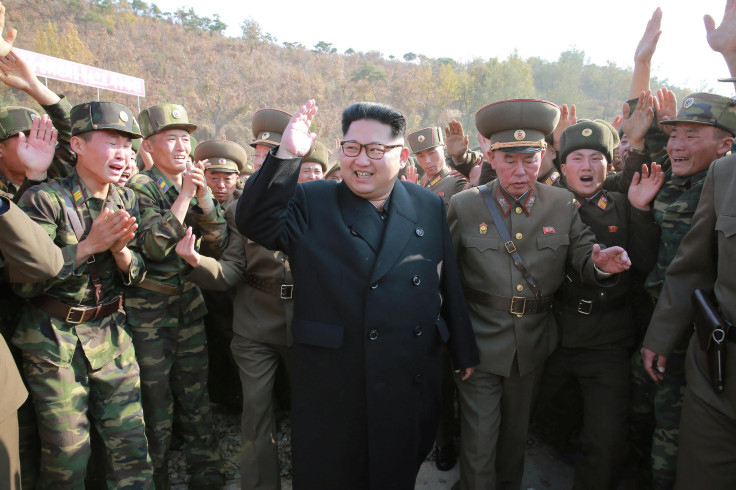 North Korean leader Kim Jong Un cheered on a military unit tasked with killing South Korean politicians this week in a rare visit with soldiers. Kim ordered the North Korean special operation battalion Friday to "eliminate the human filth occupying the [South Korean] presidential Blue House, military and the puppet government, all who have committed crimes that cannot be forgiven for all of eternity," Pyongyang's state-controlled news agency KCNA reported.
The speech marked Kim's first military-related inspection since September and came as South Korea and the United States have vowed to stop Kim from completing his mission of achieving a nuclear arsenal. South Korea said it viewed Kim's visit to the military unit as a provocation, according to Newsis.
Kim told the soldiers they have been tasked with an "important mission," to "put a sharp dagger in the enemy's heart and to break its back." Kim also observed the troops during shooting drills, helicopter rope suspension training and tactical raids.
His visit could signal that North Korea is preparing its guerrilla warfare capabilities ahead of a potential crisis, Yang Moo-jin, a South Korean professor at the University of North Korean Studies in Seoul, told UPI. North Korea has one of the world's largest militaries, with 1,170,000 troops for 2002-2012 from its population of 25 million. The United States, in comparison, has 1,410,000 military personnel.
North Korea has made headlines in recent months for its nuclear tests, but also for its growing famine crisis. With Kim spending nearly a quarter of the nation's gross domestic product on weapons, families have taken to urging senior citizens to kill themselves to avoid high costs such as medicine or other basic needs, Radio Free Asia reported Thursday.
Meanwhile, Kim's wife has reportedly gone missing after not being seen in public in seven months.
© Copyright IBTimes 2023. All rights reserved.