North Korea's Yongbyon Nuclear Complex Shows 'Suspicious Activity,' Seoul Dismisses Pyongyang's Calls For Dialogue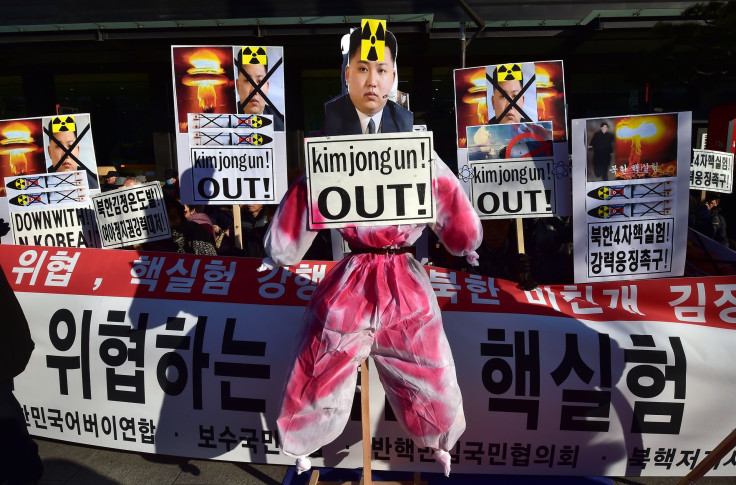 A report by U.S. think tank 38 North, which monitors North Korea, said Monday that satellite images showed "suspicious activity" at the reclusive country's main nuclear complex. The report comes as South Korea on Tuesday dismissed calls by Pyongyang to hold dialogue and urged it to immediately stop its provocative acts and take "sincere" steps to denuclearize.
The report by the American research institute said exhaust plumes were seem coming out of a steam plant used to heat the main plant at the Yongbyon Radiochemical Laboratory complex, which is used to produce plutonium for nuclear weapons. The activity indicates that either additional plutonium is being reprocessed or will be reprocessed in the future, it said. Moreover, U.S. Director of National Intelligence James Clapper had recently said that Pyongyang could reprocess the plutonium in weeks or months.
"Pyongyang continues to make slow, steady progress in completing the transformer yard associated with the Experimental Light Water Reactor (ELWR). Whether that means the ELWR will finally become operational in 2016 remains unclear, particularly since previous estimates have proven optimistic," 38 North, a website run by the Johns Hopkins University's School of Advanced International Studies in Washington, said Monday.
The report added that the activity was "unusual since exhaust plumes have rarely been seen there and none have been observed on any examined imagery this past winter. ... It still remains unclear if the North Koreans have been able to surmount other potential hurdles, such as mastering the production of fuel bundles for this reactor."
South Korea's Yonhap News Agency reported that the graphite-moderated reactor has been used to make weapons-grade plutonium and is capable of producing spent fuel rods, which when reprocessed, could help the country procure enough plutonium that could make one bomb a year. The reactor also helped provide the weapons-grade plutonium used by North Korea in its first three nuclear tests in 2006, 2009 and 2013.
U.S. Assistant Secretary of State for East Asian and Pacific Affairs Daniel Russel reportedly declined to comment on the amount of fissile material with North Korea but added that neither the materials nor the missiles would make the country more secure.
"There's no amount of fissile material that will improve North Korea's strategic position. There is no improvement to its delivery system that will make North Korea safer, or provide for its security," Russel said at a seminar, according to Yonhap, adding: "The notion that the DPRK [Democratic People's Republic of Korea] is deterring some malevolent hostile power that's bent on its destruction is absurd. It is not borne out by reality and I've ventured to argue that not even the DPRK's leadership really believes it."
Meanwhile, Seoul on Tuesday dismissed North Korea's calls to hold discussions. North Korea said in a statement Monday urging for the need for "negotiations," in a first such call since the United Nations Security Council imposed the toughest sanctions against the Kim Jong Un regime. North Korea also condemned the sanctions that were put in place after its nuclear test in January and the rocket launch in February.
"We urge North Korea to stop its provocations and threats immediately and take a path toward denuclearization with sincerity based on the realization that denuclearization is the only choice [it should make]," an official at the South Korean foreign ministry told Yonhap.
"As long as the North refuses to show its willingness to denuclearize and shuns any change, pressure by us and the rest of the world will continue," the official said, adding that the international community was asking "with a united voice" for North Korea to stick to its commitment to denuclearization.
However, despite warnings from its neighbors and the international community, the North Korean leader has called to develop more weapons and has supervised several missile tests. North Korea has also threatened to attack the United States and South Korea over their joint annual military drills, which Pyongyang says are a preparation to invade the country. However, Washington and Seoul have maintained that the exercises are for defense purpose and for preparation in the event of any agitation from the North.
FOR FREE to continue reading
✔️ Unlock the full content of International Business Times UK for free
offer available for a limited time only
✔️ Easily manage your Newsletters subscriptions and save your favourite articles
✔️ No payment method required
Already have an account?
Log in
© Copyright IBTimes 2023. All rights reserved.