Norway Commences Large Military Exercise In Arctic Circle, Amid Russian Aggression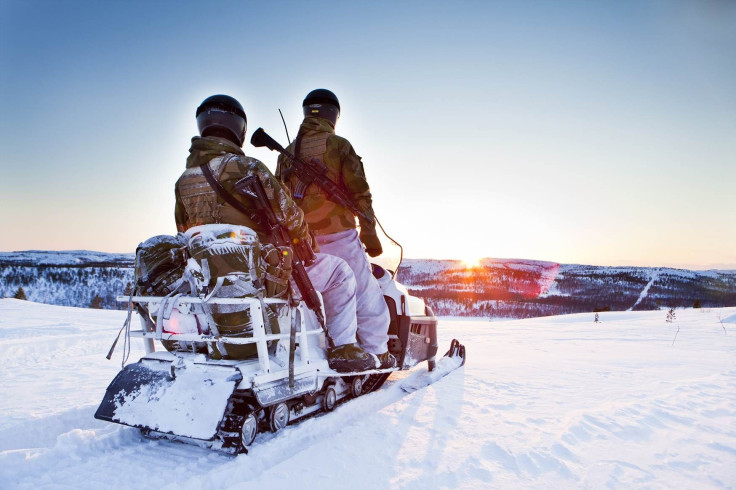 More than 5,000 troops and 400 vehicles drawn from the every branch of the Norwegian armed forces are being used in a military exercise on Norway's border with Russia, the biggest military exercise in the region in nearly 50 years. "Today the army will transport their vehicles and crews to Finnmark and begin exercise Joint Viking. This is an operative exercise with all weapons and branches involved," said army spokesperson Lt. Col. Aleksander Jankov. "To illustrate the magnitude of this, I can mention that if we put the vehicles one after another on the road it will stretch 6 kilometers."
The exercise, which will last until March 18, is to involve submarines, surface vessels, soldiers and air force jets, and comes at a time of increased tensions between Russia and Europe.
Since the annexation of Crimea last March, Russia has sent hundreds of flights into Europe's international air space, alarming the Baltic states and northern European countries. In addition, the ongoing conflict in eastern Ukraine has resulted in widespread international condemnation against Russia for its involvement in a war that has caused the deaths of more than 6,000 people in the contested regions of Donbas.
Norway's training, which takes place in the northernmost part of Norway, comes just a week after the Russian air force ended a major exercise in the nearby Barents Sea, raising further concerns in the region. Sputnik reported Russia conducted the exercise with more than 40 jets that made strikes on an imaginary army and intercepted simulated missile attacks.
Russia and Norway conducted joint exercises in the region as recently as 2013, but that cooperation ended when the former Soviet country annexed Crimea and assisted pro-Russian separatists. Norway said Russia's actions violated international laws.
© Copyright IBTimes 2023. All rights reserved.