Norway's Biggest Bank Calls For Country To Stop Using Cash
The largest bank in Norway has called for the country to stop using cash, the Local reported Friday. This comes as the latest move in a country that has been leading the global charge toward electronic money in recent years, with several banks already not offering cash in their branch offices and some industries seeking to cut back on paper currency.
DNB, the bank with the proposal, has said eliminating the use of cash would cut down on black market sales and crimes such as money laundering.
"Today, there is approximately 50 billion kroner in circulation and [the country's central bank] Norges Bank can only account for 40 percent of its use. That means that 60 percent of money usage is outside of any control. We believe that is due to under-the-table money and laundering," Trond Bentestuen, a DNB executive, told Norwegian website VG, the Local reported.
"There are so many dangers and disadvantages associated with cash, we have concluded that it should be phased out," he added.
The country has already moved in this direction naturally. Bentestuen estimated that about 6 percent of Norwegians use cash on a daily basis, with the numbers higher among elderly people.
Norway Overview | FindTheData
Norway's Ministry of Finance is opposed to the proposal, however, and other critics have raised concerns about privacy issues as well as how the change would affect tourists. Privacy advocates in Norway have expressed worries for years that, without cash, there would be no way for an individual to purchase something without being tracked.
In 2014, Finans Norge, a financial industry organization in Norway, said the country was on pace to be a cashless society by 2020, Ice News reported. While DNB said its proposal will take time to complete, executives suggested the country start phasing out cash by discontinuing the 1,000 kroner note so it could focus on updating its banking system.
"Eighty-five percent of our customers say that they never or only very rarely go to the bank. Therefore we think it is a mistake to maintain a very old structure with local branch offices. It is better to follow the customers and improve the offers where the customers are: digital," Bentestuen said.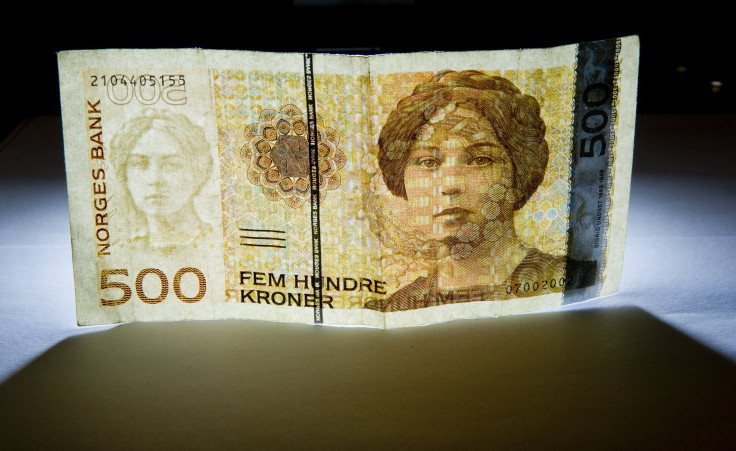 Still, the Finance Ministry has no plans to change its laws for now.
"There are many, including the elderly, who still want to use cash and that must be allowed. Moreover, it isn't unproblematic for privacy to make every transaction traceable," Finance Ministry spokesman Tore Vamraak said, according to the Local.
In the meantime, DNB and Norway's second largest bank, Nordea, have already stopped using cash in their branch offices. And the movement toward a goal of no cash has been going on for a while. The Norwegian Hospitality Association pushed to eliminate consumers' right to pay cash at all stores and restaurants in 2013, The Local reported.
Other countries including Denmark and Sweden have made similar pushes as their populations also rely largely on electronic money.
© Copyright IBTimes 2022. All rights reserved.
FOLLOW MORE IBT NEWS ON THE BELOW CHANNELS