Not Just Michael Grimm: These Politicians Got Testy With Reporters, Too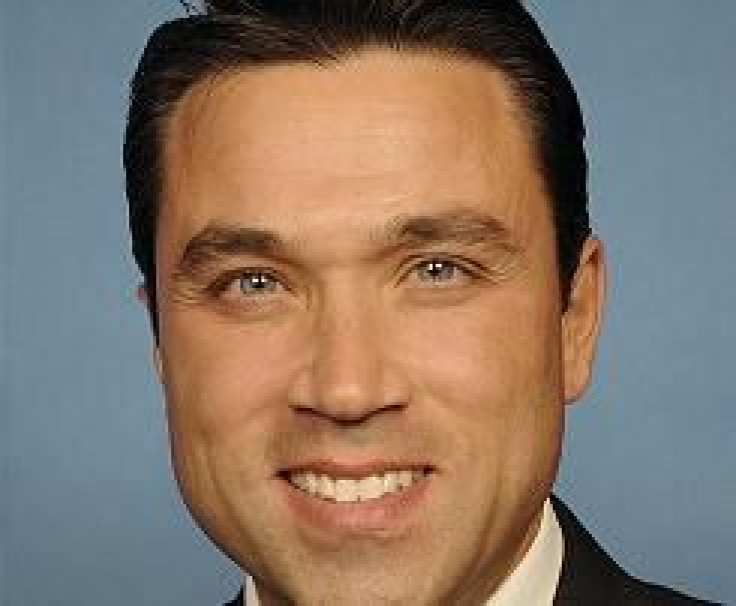 Rep. Michael Grimm, R-N.Y., lost it on Tuesday after the State of the Union address and threatened bodily harm against an NY1 reporter who was trying to get a comment on the federal investigation into the lawmaker's campaign fundraising.
The two-term congressman representing Staten Island threatened to throw reporter Michael Scotto off the balcony inside the Capitol after the reporter sought to ask about the investigation. The lawmaker initially walked away but returned while Scotto was signing off and explaining to viewers that Grimm had refused to answer questions on the issue.
"Let me be clear to you: You ever do that to me again, I'll throw you off this f--king balcony," the congressman told Scotto, who said he was asking a "valid question."
Grimm then told Scotto, "No, no, you're not man enough, you're not man enough. I'll break you in half. Like a boy."
The former Marine and FBI agent initially defended his actions but later apologized. Scotto has accepted the apology. Still, Grimm isn't the only politician to have traded sours with reporters.
Here are a couple of other notable lawmakers who've gotten testy with reporters.
Chris Christie And The 'Thin-Skinned Guy'
When the Star-Ledger's Tom Moran asked the New Jersey governor about whether his confrontational tone would help push through a piece of legislation, Christie had this to say:
"You know Tom, you must be the thinnest-skinned guy in America. 'Cause [if] you think that's a confrontational tone, then you should see me when I'm really pissed. That's not confrontational, all right?
Here is Christie's round two with another reporter. Only this time, the reporter deviated from the topic and the governor quickly shut him down. [Skip to around 2:28]
"Did I say 'on topic'? Are you stupid? On topic, on topic. Next question," Christie said. "Next question. Good. Thank you all very much and I'm sorry for the idiot over there."
Anthony Weiner
After conceding the race for mayor of New York City last year, Weiner, who was caught up in another scandal under the name Carlos Danger, went out with a bang:
And the proof…
Weiner strikes again, this time mocking a British reporter's accent:
George H.W. Bush vs. Dan Rather
More than 20 years ago, then Vice President George H.W. Bush, who was the front-runner for his party's nomination, foiled CBS's Dan Rather on-air ambush.
According to PBS, the Bush campaign claimed CBS had pitched them the idea of a routine candidate profile. However, the campaign team got a tip from someone at the station that the segment producer was telling the newsroom, "We're taking Bush out of the campaign tonight."
This is how it went down:
George W. Bush
The younger Bush was no wimp either. His exchange was more like a gaffe, but he did not back away from the comment. In the 2000 election campaign, the microphone picked up Bush and Dick Cheney saying some not-so-nice stuff about New York Times reporter Adam Clymer.
"There's Adam Clymer -- major league asshole -- from the New York Times," Bush said.
"Yeah, big time," replied Cheney.
No regrets here. Bush later explained, "I said what I said. I'm a plainspoken fellow."
'Stuffing Words' In Paul Ryan's Mouth
The Wisconsin congressman ended an interview with Terry Camp, a Michigan TV reporter, in October 2012, while speaking about guns and taxes on the campaign trail.
Ken Salazar Wants To 'Punch Out' Dave Phillips
Former Interior Secretary Ken Salazar ended up apologizing in 2012 when he threatened to punch reporter David Phillips when he asked about an investigation concerning a man with ties to the federal official.
"You should never do that again. This is an Obama event. You know if you do that again, I'm going to punch you out," Salazar was caught on audio saying.
Bill Clinton's Not Into Games Today
In 2008, Clinton took on a reporter who he said mischaracterized his words from a previous interview.
"No, no, no. That's not what I said. You always follow me around and play these little games, and I'm not going to play your games today. … Go back and see what the question was, and what my answer was. You have mischaracterized it to get another cheap story to divert the American people from the real urgent issues before us, and I choose not to play your game today. Have a nice day."
Don't Ask Gov. Jan Brewer About Global Warming
She will confront you:
© Copyright IBTimes 2023. All rights reserved.