Novartis-Backed Project Could Fight Malaria With Cell Phones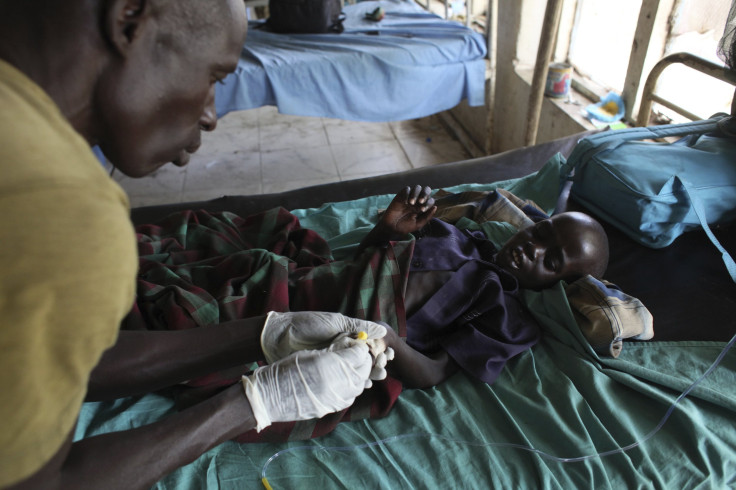 Though most Africans, especially in rural areas, don't have access to 4G networks or own a smartphone, cell subscriptions have skyrocketed, and researchers sponsored by Swiss pharmaceutical company Novartis AG released a study last month analyzing the efficacy of using cell phones to help doctors track and treat malaria.
There are more cell phone subscriptions in Africa than there are landlines today. This has led to rapid innovation. Mobile payments, access to social networks and even job searches no longer require a computer or even a smartphone.
Though the study's results were mixed, the idea was a creative way to surmount logistical problems that hold back health workers who struggle to keep medicine stocks up and track the spread of diseases.
The study, published in the Malaria Journal, is called "Using mobile phone text messaging for malaria surveillance in rural Kenya." It showed that communicating with text messages can be an effective way to share critical data.
"The study demonstrated the feasibility of using simply mobile phone text messages to transmit timely surveillance data from peripheral health facilities to higher levels," reads the report.
Researchers chose five districts in Kenya, with varied malaria incidence and cell network coverage. Designated members of each district health management team were taught how to report data such as the number of patients presenting with malaria, how many were treated or how much medicine was left in stock using text messages on their personal phones.
The research was conducted as part of the Novartis project called "SMS for Life," which "uses a combination of mobile phones, SMS messages, the Internet and electronic mapping technology to track weekly stock levels at public health facilities," according to the company's information about the program.
"In many African countries, supply chain problems make it difficult to get malaria medicines to patients," states the information page, which cites inconsistent reporting methods and low access to data as major obstacles to proper treatment of malaria.
The results of the study show clearly that cell phones can speed access to data. But though response levels were high, more than half of the reported data was incorrect, mainly due to "miscounting."
Researchers suspect that trained health workers, who are generally in short supply, were handing the duty off to lower-ranking employees while they dealt with more pressing matters.
Nevertheless, the results still show that an SMS-based reporting system could provide significant benefits, and even save lives.
"These findings add to the growing evidence of the simplicity of using mobile phones to transmit real-time malaria surveillance data from peripheral health facilities to district and national level managers at higher response rates and shorter intervals than routine [health management information systems] in Africa," the report reads.
Doctors in Africa and beyond are using cell phones to help battle much more than malaria.
"As this mass adoption of technology continues to gather momentum, it is causing a fundamental shift that goes beyond merely connecting people; it is creating one of the largest, low-cost distributed sensor networks we've ever seen, one which has the potential to completely transform global health care," wrote Seth Berkley, a doctor and epidemiologist in the MIT Technology Review.
"For the first time we are seeing good quality data that can tell us who is dying and from what, who is sick and where clusters of disease are occurring," wrote Berkley, who is also CEO of GAVI Alliance, a public-private partnership based in Switzerland that's been working with companies such as Vodafone to explore how mobile networks can be used to keep track of medicine stocks, access health reminders and even text parents reminders for vaccine clinics.
Berkley is just one of many who have been applying big data to solve big problems. Ushahidi is a non-profit tech company that develops open-source software to facilitate information collection, visualization and interactive mapping in real time. It has used text messages and cell phone photos to monitor contested elections, political violence and even the spread of swine flu a few years ago.
Healthmap is a similar effort that tracks outbreaks of illness around the world, which allows anyone to log on and see where outbreaks have occurred, and how to protect themselves.
The "MHealth" phenomenon, as it's called, is one of the latest frontiers in research that's based purely on mobile networks. Last year, more than $1.7 trillion passed through cell phones in Kenya alone thanks to Mpesa, a mobile money transfer system that requires no Internet connection and was also founded in Africa.
"People like to call Africa a mobile-first continent, but actually it's mobile-only," said Toby Shapshak, a South African journalist and editor of Stuff magazine, in a recent TED Talk about innovation on the continent, where he explained how limited resources and poor infrastructure have fostered creative solutions to problems that require nothing more than a cell phone.
FOR FREE to continue reading
✔️ Unlock the full content of International Business Times UK for free
offer available for a limited time only
✔️ Easily manage your Newsletters subscriptions and save your favourite articles
✔️ No payment method required
Already have an account?
Log in
© Copyright IBTimes 2023. All rights reserved.