NYC Mayoral Candidates Respond To Judge's 'Stop & Frisk' Ruling
The controversial New York Police Department law enforcement tactic known as "stop-and-frisk" came into the spotlight Monday, less than a month before the New York City mayoral race primary elections.
Candidates in the race to replace Mayor Michael Bloomberg were quick to respond to U.S. District Court Judge Shira Scheindlin's 195-page Monday ruling which states that the practice violates its targets' constitutional rights because race-based discrimination is a central facet of the practice's implementation.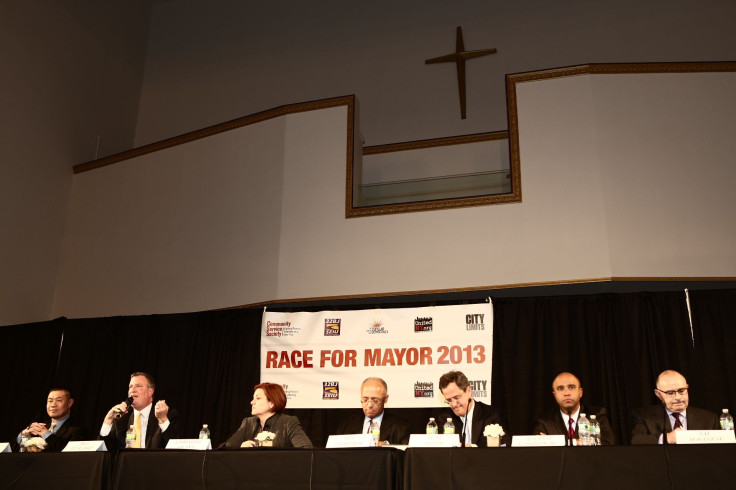 "The city's highest officials have turned a blind eye to the evidence that officers are conducting stops in a racially discriminatory manner," Scheindlin wrote. "In their zeal to defend a policy that they believe to be effective, they have willfully ignored overwhelming proof that the policy of targeting `the right people' is racially discriminatory."
The ruling does not abolish the "stop-and-frisk" regime, however, instead ruling that an independent monitor will develop reforms to NYPD policies and practices in order to bring them in line with the U.S. Constitution. She also ordered that some police officers wear cameras in the precinct with the most frequent stop-and-frisks, according to CBS News.
The mayoral race's front-runner, City Council Speaker Christine Quinn, has been critical of the policy during her candidacy but has stopped short of calling for it to be repealed, expressed support for the ruling.
"Today's court ruling affirms what we have known for some time, too many young men of color are being stopped in the streets of New York in an unconstitutional manner and that must stop," she said in a statement, adding that if elected mayor she will "help ensure these stops come down dramatically."
City Public Advocate Bill de Blasio, a Democratic candidate for mayor who has seen an increase in his poll numbers in recent weeks, has been a major opponent of "stop-and-frisk," and his statement following the ruling expressed support for Scheindlin's determination.
"The courts have just affirmed facts that too many New Yorkers know to be true: Under the Bloomberg Administration, with the acquiescence of Speaker Quinn, millions of innocent New Yorkers — overwhelmingly young men of color — have been illegally stopped," said Public Advocate Bill de Blasio.
City Comptroller John Liu, a Democratic mayoral candidate who has called for "stop-and-frisk" to be abolished, also expressed support for the ruling in a statement.
"Today's ruling by Judge Scheindlin declaring that police have overstepped their authority highlights the enormous flaws in the NYPD's 'stop-and-frisk' tactic, which has served to undermine trust between communities and law enforcement. The judge's call for reforms must be heeded, and -- longer term -- the tactic should be abolished. It's time to put an end to stop-and-frisk once and for all."
Anthony Weiner, a former congressman and Democratic mayoral candidate, also backed the ruling, calling it a "teachable moment for our city" in a statement.
"This decision sadly confirms what was profoundly obvious. When the police stop tens of thousands of citizens who have done nothing wrong -- the overwhelming number being young men of color -- basic civil rights are being violated. The policy of using stop-and-frisk as a deterrent rather than a tool for the pursuit of actual criminals has to change.
But Sal Albanese, a Democratic mayoral candidate, said the ruling should serve only as a call to reform the policy, not as a rebuke of its legality.
"Today, the courts upheld what any reasonable New Yorker has known since day one: Stop-and-frisk is a legal police tool that keeps our city safe when it is used properly," he said in a statement. "There was never any doubt that the city was casting too wide of a net and focusing on quantity rather than quality when numbers peaked in 2011."
Former New York City Comptroller and Democratic mayoral candidate Bill Thompson has been highly critical of "stop-and- frisk," and he continued to express such views in a Monday statement in response to the ruling.
"As I have said, the present stop-and-frisk policy violates the constitutional rights of all New Yorkers, but especially innocent blacks and Latinos," he stated. "Instead of treating our police and people with respect, the Mayor and Commissioner Kelly have imposed what are effectively quotas on the police and treated entire minority communities with suspicion."
Leading Republican mayoral candidates like former Metropolitan Transportation Authority Chairman Joe Lhota and billionaire supermarket magnate John Catsimatidis appeared not to have released statements based on the ruling as of early Monday afternoon, but GOP candidates have generally been far more supportive of "stop-and-frisk," and Kelly's NYPD as a whole.
A "stop-and-frisk" is essentially a warrantless search of an individual in public who is deemed to be suspicious, likely dangerous, or potentially carrying a weapon by one or more officers. Bloomberg and Police Commissioner Ray Kelly, who refer to the practice as "stop, question and frisk," have repeatedly cited it as being a key law enforcement and a major contributor to the sharp drop in crime New York City has experienced over recent years.
But many civil rights advocacy groups and privacy advocates assert that the practice constitutes an unconstitutional invasion of people's privacy and that it unfairly targets black and Hispanic New Yorkers. Scheindlin's ruling was the most significant win this camp has had thus far in the fight against the NYPD's implementation of the policy.
"Far too many people in New York City have been deprived of this basic freedom far too often," Scheindlin said. "The NYPD's practice of making stops that lack individualized reasonable suspicion has been so pervasive and persistent as to become not only a part of the NYPD's standard operating procedure, but a fact of daily life in some New York City neighborhoods."
A previous mayoral race controversy about "stop-and-frisk" occurred last month when a number of candidates criticized Weiner for comments comparing the tactic to those of the Germans in the lead-up to World War II, the New York Post reported.
"And the mayor stood up and said, 'Wait a minute, statistically this' and 'statistically that.' Well, you can have 100 percent statistical reductions in crime if you stop everybody," Weiner said. "You could have 1938 Germany, because everyone has to show their papers."
FOR FREE to continue reading
✔️ Unlock the full content of International Business Times UK for free
offer available for a limited time only
✔️ Easily manage your Newsletters subscriptions and save your favourite articles
✔️ No payment method required
Already have an account?
Log in
© Copyright IBTimes 2023. All rights reserved.