'Stop & Frisk': The 2013 NYC Mayoral Race & The City's Premier Law Enforcement Issue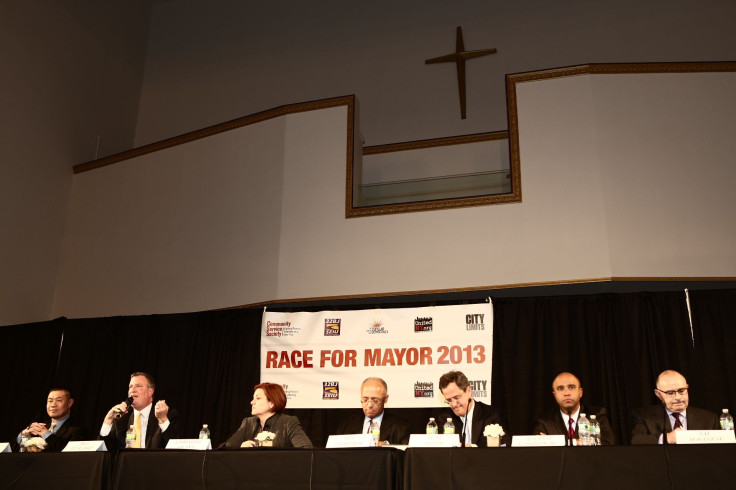 New York City's 2013 mayoral candidates have begun to weigh in on the NYPD's controversial "Stop, Question and Frisk" (most commonly known as "Stop and Frisk") program, which is most likely going to be the biggest law enforcement issue in the November election to replace Mayor Michael Bloomberg.
"Stop and Frisk" has become a contentious issue in a city that continues to undergo the racial stress that comes with sweeping gentrification and rising income inequality between whites and minorities. The issue was catapulted to the front of debate after a 2011 NYPD report revealed that almost nine out of 10 people stopped under the policy were black or Hispanic.
The process of initiating a "Stop, Question and Frisk" under the policy begins with a police officer making a judgment that an individual is either carrying a weapon or that he or she likely did or will commit a crime.
The police officer then engages in a conversation with the individual, during which questions are asked in an attempt to ascertain what he or she is doing, where they are headed, and more.
If the officer determines that there is a probable cause, then comes the controversial part, known as the "frisk," during which the officer checks the person for weapons by performing a (warrantless) search.
The process has come under fire from civil rights advocates, racial justice groups and others who believe the policy is often employed in ways that run counter to the Fourth Amendment to the U.S. Constitution.
The Current State Of "Stop and Frisk"
Bloomberg and Police Commissioner Ray Kelly continue to defend the practice, which came into wide use in the 1990s under then-commissioner Bill Bratton and has ballooned in recent years under Kelly. In 2002, the police reported that its officers executed 97,000 "Stop, Question and Frisk" stops; in 2009 it made 580,000 such stops, according to a groundbreaking New York Times investigation into the program.
The courts are divided on "Stop and Frisk" and similar policies. The U.S. Supreme Court has yet to address the specific policy employed by the NYPD, but issued a ruling in 2011 that made it significantly easier for police to justify certain warrantless searches under the law. Meanwhile, a Manhattan federal court judge ruled in January that employment of certain "Stop and Frisk" tactics in the Bronx is unconstitutional, ordering the NYPD to stop utilizing them in that borough immediately, though later that month she lifted the halt at the NYPD's behest while she considers further measures.
What Do The Candidates Say?
The red-hot debate over "Stop and Frisk" has pushed the issue to the fore of the 2013 New York City mayoral race, and mayoral candidates are treading carefully around the issue. Many residents disparage it, yet it is popular with people who support the NYPD line that it is an essential crime-fighting tool that has been integral in driving city crime rates down in recent years, which the department continues to advance despite the backlash against the policy.
Most of the candidates and likely contenders who appeared at a forum last week in Harlem to discuss issues affecting low-income New Yorkers said they want to examine and reform "Stop and Frisk."
They are likely trying to play it safe on one of the most divisive issues facing the city, but the response from the crowd -- which was dominated by black and Hispanic residents -- was highly negative, as attendees made it known that they want nothing less than the elimination of the program.
City Council Speaker Christine Quinn, who is widely believed to be the front-runner in this year's Democratic primary, is critical of the program but has not endorsed ending it outright.
"The number of stop, question and frisks -- off the charts, way too high," she said during the forum, drawing jeers from the crowd. "We have to continue our efforts to put a much tighter structure around when stop and frisks can happen."
However she has expressed stronger sentiments on the issue in the past, including in a February 2012 letter to Kelly outlining her concerns, including her belief that the practice has "sown distrust in communities of color."
She clarified her position as outlined in the letter during a phone interview with the New York Daily News:
"We should continue doing stop, question and frisk. We shouldn't end it. But we need to mend this policy significantly," Quinn said. "We need to create a very clear structure around the use of this tactic to make sure that it isn't being overly used, to make sure that it isn't being used in a way that anyone feels they are being targeted because of who they are."
City Public Advocate Bill de Blasio has also embraced reforming the program rather than ending it outright, despite the fact that he says he felt the need to warn his son -- who is half-black -- that the color of his skin makes him a prime "Stop and Frisk" target.
"We need to bring down the number of stop and frisks," de Blasio said at the forum, adding that "the overuse of stop and frisk has set back the relationship between community and police that we've worked on for years."
Last May de Blasio introduced a plan for reducing "Stop and Frisk" stops citywide, calling on the NYPD to make police officers directly accountable for bad stops, maintain or increase the city's current number of police officers and embrace community policing and deterrence policies, and for the city to maintain or increase funding for after-school programs in order to keep youths off the street.
Former City Comptroller Bill Thompson, the African-American 2008 Democratic mayoral nominee who lost to Bloomberg, told a moving story at the forum, detailing how he too felt the need to tell his teenage son that he would likely find himself facing a police officer executing a "Stop and Frisk."
He said it pained him to live in a city where he has to worry that his son will be targeted by police for simply walking down the wrong street or somehow attracting undue attention from law enforcement, but he stopped short of calling for an end to "Stop and Frisk" during his comments at the forum.
"I haven't said eliminate 'Stop and Frisk,' but it's a policy that needs to be evaluated and refined," he said.
Former Metropolitan Transportation Authority Chairman Joseph J. Lhota did not attend the forum, but he is one of a contingent of Republican candidates who have expressed a higher level of support for the program than most Democratic contenders have.
"Anyone who says we should eliminate stop-and-frisk really is putting the city in danger," Lhota told CBS New York in January, adding in an interview that month with DNAinfo.com that "it is a strategy in which anyone who says that it must be eliminated is going to put the city, or anywhere, at risk."
Gristedes supermarket chain owner John Catsimatidis, another Republican candidate who has spoken of his support for the program, laid out his opinions on the issue during an appearance last year on ABC 7:
"I'm not against 'Stop and Frisk.' I think it should be modified a little bit. Don't forget, 88 percent of the people that get arrested are in bad neighborhoods and 88 percent of the people that get killed by illegal guns are in the same neighborhoods. So what 'Stop and Frisk' does is protect the people in those neighborhoods," he said, though he did not provide sources for his figures.
The only leading candidate who has come out to express full-throated opposition to the policy and called for its immediate demise is City Comptroller John Liu, a Democrat who in 2008 became the first Asian-American elected to citywide office in New York City history.
He declared at the forum last week that "'Stop and Frisk' ... needs to be ended," garnering thunderous applause from the audience.
"You can't deny that racial profiling is going on," he said. "We've got to put an end to this practice. ... At the end of the day it makes everybody less safe."
The "Stop and Frisk" debate will likely not be resolved by the time the city's voters head to the polls in November, and the candidates' views will come under increasing scrutiny as Election Day nears.
© Copyright IBTimes 2023. All rights reserved.
FOLLOW MORE IBT NEWS ON THE BELOW CHANNELS