Obama Acid Reflux Health Update: 'I'm Doing Fine'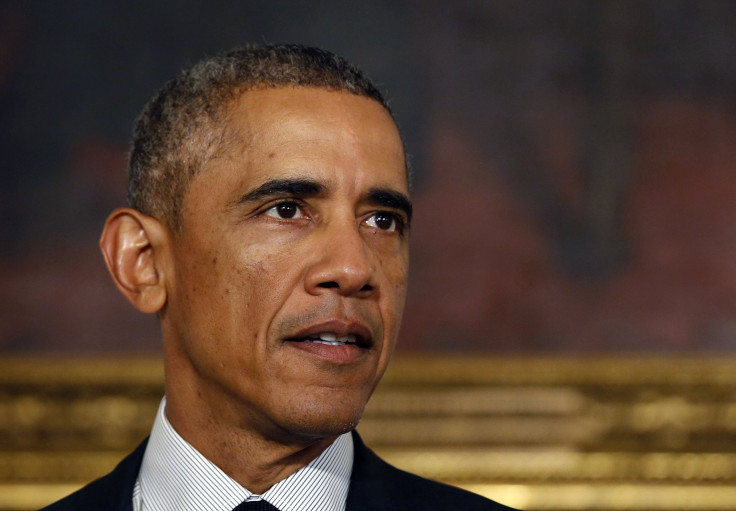 President Barack Obama told the media he's "doing fine," after seeking treatment earlier this month for a sore throat caused by acid reflux. "It's a classic example of, if it weren't for the press pool, nobody would know about it," Obama said at a press conference in the White House Friday.
Acid reflux is a condition in which acidic fluid in the stomach flows back up into the esophagus, causing symptoms such as chest pain and sore throat. The condition is also known as heartburn, acid indigestion or pyrosis. Americans are particularly prone to the disease, due to lifestyle risk factors such as obesity and smoking, according to Medical News Today.
News of the president's condition swept the media after Obama went to a military hospital in Washington on Nov. 1. The hospital visit was unscheduled and press pool reporters who cover the president had been dismissed for the day, according to Business Insider. White House Press Secretary Josh Earnest said Obama had complained of a sore throat and the trip was a "matter of convenience for the president, not a matter of urgency."
An ear, nose and throat specialist from the new Fort Belvoir Medical Center conducted a fiber optic exam on the president, under the supervision of Obama's physician, Dr. Ronnie Jackson. "The exam revealed soft tissue swelling in the posterior throat and I, in consultation with the specialist, determined that further evaluation with a routine CT scan was prudent." Additional diagnostic tests were conducted at the Walter Reed National Military Medical Center in Bethesda, Maryland. Jackson said the CT scan was "normal" and the president's symptoms were consistent with acid reflux. Obama was "treated accordingly," Jackson said in a statement last week.
Jackson said Obama, 53, underwent a routine physical this year in May and the president's "overall health is excellent," aided by his routine exercise, healthy diet and tobacco-free lifestyle. Obama is a former smoker, Reuters reported.
© Copyright IBTimes 2023. All rights reserved.