Obama Administration Unveils First Federal Safety Mandates For Oil And Gas Fracking On Federal Lands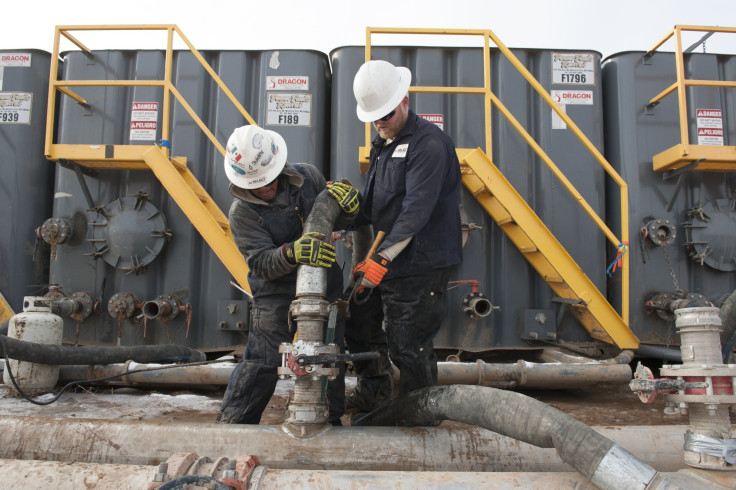 The Obama administration on Friday unveiled the first federal safety mandates for energy companies that drill on federal land. The new rules are aimed at addressing concerns about the risk of groundwater contamination and air pollution from hydraulic fracturing, or fracking, operations in shale-rich areas.
"Many of the regulations on the books haven't kept pace with the advances in [energy] technology," U.S. Secretary of the Interior Sally Jewell said Tuesday in a speech that previewed Friday's announcement. "Some have already labeled these baseline, proven standards as overly burdensome to industry; I think most Americans would call them common sense."
Of the 100,000 oil and gas wells on federal and tribal lands, about 90 percent use fracking to extract fossil fuel reserves from the ground, according to the Interior's Bureau of Land Management. Those wells account for less than a quarter of total U.S. oil production and about 17 percent of its natural gas. The rest of the country's fossil energy production happens on private lands.
Take Effect In 90 Days
The federal land bureau developed the rules over three years and considered more than 1.5 million public comments. Key components of the measures, which take effect in 90 days, include:
-- Provisions to protect groundwater supplies. Operators will have to improve the integrity of their drilling wells and install strong cement barriers between the wellbore, or drilling hole, and the water zones through which the bore passes.
-- Chemical disclosure requirements. Fracking companies will have to publicly share the chemicals they use in the drilling process. The data must be posted to the website FracFocus.com within 30 days of completing operations.
-- Standards for fracking waste fluids. Companies must comply with a set of tougher regulations regarding how and where they store the wastewater and other fluids that are produced during the drilling process. The energy firms will also have to disclose more detailed information on the geology, depths and locations of preexisting wells.
"The new regulations are essential to our mutual efforts to protect the environment and the communities that depend on vital water, land and wildlife resources," Neil Kornze, director of the Bureau of Land Management, said in a Friday statement. "This rule is good government."
On privately held lands, by contrast, state rules governing the drilling process and wastewater storage vary widely and are often considered lax. In shale-rich states such as Oklahoma, Texas and Arkansas, the accelerating disposal of fracking-related fluids into thousands of underground wells has been linked to a swarm of earthquakes in areas that typically see little seismic activity. Thanks to a loophole in energy regulations, most companies aren't required to disclose what chemicals they use in the fracking process.
Swift Criticism
Oil and gas industry groups swiftly criticized the Obama administration's rules. The American Petroleum Institute, a leading lobbying group, called the measures "a barrier to growth."
"A duplicative layer of new federal regulation is unnecessary, and we urge the [bureau] to work carefully with the states to minimize costs and delays created by the new rule to ensure that public lands can still be a source of job creation and economic growth," Erik Milito, the institute's director of upstream and industry operations, said in a statement.
Opponents of the rules in Congress are already moving to block them. A group of Republican senators, including Senate Majority Leader Mitch McConnell and Sen. Jim Inhofe, chairman of the environment and public works committee, introduced a bill late Thursday that argues only states have the authority to regulate fracking on federal lands -- not the federal government, the National Journal reported.
Jewell dismissed the bill during a Friday call with reporters. "We believe that these standards are essential and that it is our charge to oversee them," she said.
© Copyright IBTimes 2023. All rights reserved.