Obama Administration Outlines Tougher Standards For Oil And Gas Production On Federal Lands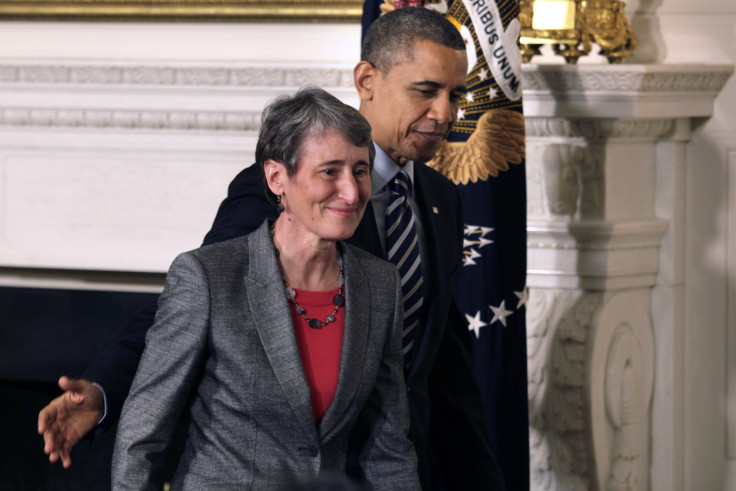 The Obama administration is adopting more stringent standards for oil and gas development on federally owned land and water. U.S. Secretary of the Interior Sally Jewell this week unveiled the measures in a major speech that called for protecting the Earth's climate while continuing to extract America's fossil fuel reserves.
"Helping our nation cut carbon pollution should inform our decisions about where we develop, how we develop and what we develop," Jewell said Tuesday evening at the Center for Strategic and International Studies, a think tank in Washington, D.C.
Federal and tribal lands hold about a quarter of the country's shale oil and gas deposits. Combined production on these parts of the country has jumped dramatically in recent years (up by 81 percent in 2014 compared with 2008), as technologies such as hydraulic fracturing, or fracking, make it possible to tap previously unreachable deposits.
Offshore, federal waters hold an estimated 90 billion barrels of oil and 405 trillion cubic feet of natural gas, according to the Interior's Bureau of Ocean Energy Management. The agency in January proposed to allow offshore oil and gas drilling for the first time in a slice of federal waters off the U.S. Atlantic Coast. Officials also said new leases could be offered in the Gulf of Mexico and in certain areas in offshore Alaska.
The Obama administration's pro-drilling approach has drawn criticism from environmental groups, which argue that the federal government should leave carbon-intensive fuels in the ground while devoting more resources to developing cleaner alternatives such as solar and wind power and electric vehicles. At the forum, Jewell touched lightly on the debate.
"As the person entrusted with America's biggest land management portfolio, I've also got to ask questions like: What are we doing to achieve a low-carbon future? Are we striking the right balance between conservation and development? What measures do we need in place for our land, water and climate today to protect the families of tomorrow?" she said.
The first of the Interior Department's new regulations could be released in a matter of days, Jewell added. The rule will require fracking operators to "construct sound wells, to disclose the chemicals they use and to safely recover and handle fluids used in the process."
On privately held lands, state rules governing the fracking process vary widely and are often lax. In energy-rich states such as Oklahoma, Texas and Arkansas, the rampant disposal of fracking-related wastewater into thousands of underground wells has likely led to a swarm of earthquakes in otherwise seismically calm communities. An environmental analysis last fall found that some U.S. fracking firms illegally used diesel to drill hundreds of wells, threatening nearby drinking water supplies.
The energy industry has long resisted efforts to boost regulation and transparency in the fracking process, Jewell noted. "Some have already labeled these baseline, proven standards as overly burdensome to industry; I think most Americans would call them common sense."
In the coming months, the agency will also propose standards for reducing methane emissions at oil and gas sites on federal lands, the secretary said.
In fracking operations, small amounts of natural gas often rise to the surface alongside crude oil, and many companies have found it cheaper and easier to simply burn off, or "flare," the gas, resulting in methane emissions. While methane is less abundant than carbon dioxide, it's dozens of times more potent as a greenhouse gas, meaning that relatively small amounts of methane can have an immediate and powerful effect on global warming.
The Obama administration in January announced a plan to cut methane from oil and gas sites to 45 percent below 2012 levels within 10 years, and part of those reductions will come from federal lands. Jewell said the Interior Department's rules would reduce flaring and venting in energy operations.
"Many of the regulations on the books haven't kept pace with the advances in [energy] technology," she added. "They are the same ones that were in place when I was working on drilling and fracking operations in Oklahoma more than 30 years ago."
Industry groups argue that the oil and gas sector is already taking aggressive steps to protect the nation's clean air and water. "Environmental protection and safety are fully integrated into what we do and, in many cases, exceed what is covered by statute," Mark Green, a blogger for the American Petroleum Institute's Energy Tomorrow website, wrote in a Tuesday post.
FOR FREE to continue reading
✔️ Unlock the full content of International Business Times UK for free
offer available for a limited time only
✔️ Easily manage your Newsletters subscriptions and save your favourite articles
✔️ No payment method required
Already have an account?
Log in
© Copyright IBTimes 2023. All rights reserved.