Obama Approval Rating Poll Shows Support For Minimum Wage Increase, Finds Most Think Government Doesn't Help Middle Class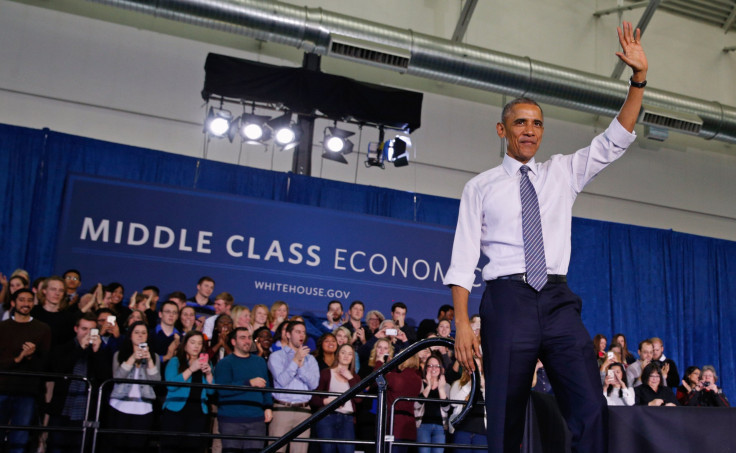 A majority of Americans favor increasing the minimum wage in addition to two other programs meant to help the middle class that President Barack Obama outlined in his State of the Union address last month, according to an Associated Press-GfK poll released Thursday. The survey also found that most Americans say the government isn't doing enough to help the middle class, and 60 percent of respondents indicated that they don't think the government is helping unemployed Americans enough, despite a similar AP poll last week in which a slim majority said they approved of Obama's handling of unemployment.
About 60 percent of Americans want an increase in the minimum wage, including 50 percent who strongly favor a hike, while about 20 percent say they want the minimum wage to stay the same, the AP poll found. There was similar approval for paid sick leave, which would mandate employers pay employees while they take time to address medical issues. The strongest support, about 66 percent, was for paid parental leave, which would allow employees to take time off after their child is born without being docked pay.
Nearly 7 in 10 respondents said government doesn't do enough to help the middle class while about 60 percent said the same is true for poor Americans. About half said not enough is being done to help unemployed Americans, according to the Thursday poll.
While the poll question referred to government in general, not Obama, the president received higher marks on unemployment in an AP-GfK poll conducted last week. About 51 percent of Americans said they approved of Obama's handling of unemployment, which represented a 7 percentage-point jump from the 44 percent who felt that way in December.
Free community college for pupils who maintain a 2.5 GPA and meet other requirements also has the support of a majority of Americans, the new poll found. More than 6 in 10 respondents said they favor the proposal, which was also unveiled in the president's State of the Union speech. The plan has the support of 75 percent of Democrats, 50 percent of Independents and 33 percent of Republicans, although just 30 percent of conservative Republicans don't like the plan.
The AP-GfK poll surveyed 1,045 adults between Jan. 29 and Feb. 2. It has a margin of error of 3.5 percentage points.
© Copyright IBTimes 2023. All rights reserved.