Obama Gun Control Package Includes Assault Weapons Ban, Ammo Restrictions, Mental Health Push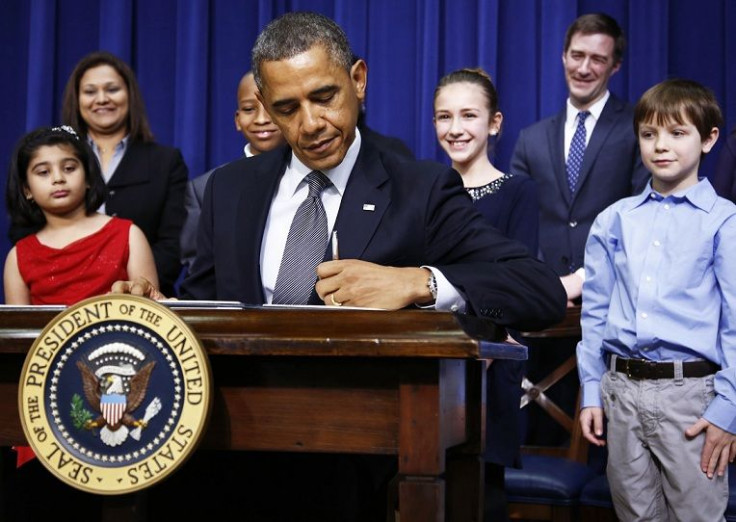 President Barack Obama on Wednesday beseeched Congress to approve new bans on military-style assault weapons and high capacity magazine clips, calling for stronger laws to prevent gun violence in response to a string of deadly mass shootings that plagued the U.S. in 2012.
In a White House event that included family members of those killed last month at Sandy Hook Elementary School, as well as children who wrote the president in the wake of the shooting, Obama unveiled a series a package of legislative and administrative proposals he said would require criminal background checks for all firearm sales, authorize new funding for gun violence research and make mental healthcare more attainable.
"While reducing gun violence is a complicated challenge, protecting our children from harm shouldn't be a divisive one," Obama said.
The proposals are based on the findings of Vice President Joe Biden's gun violence prevention task force, which has spent the last month meeting with gun control advocates and opponents.
Obama's called on Congress to renew the assault weapons ban that expired in 2004, institute a universal criminal background check on all gun purchases, and create a new federal gun trafficking law.
The president also outlined 23 executive actions he intends to take without congressional approval, including measures to launch a national gun safety campaign; providing law enforcement, first responders and school officials with training to potential shooters; maximizing efforts to prosecute gun crimes; and developing a model emergency response plan for schools, houses of worship and universities.
The flood of recommendations do not include steps to reign in violence in video games or films, which some argue encourages violent behavior in children and adolescents.
The White House estimates the president's requests will cost approximately $500 million in the coming fiscal year. About $10 million of that funding would go toward gun violence research that would be conducted by the Centers for Disease Control and Prevention, The Hill reports, despite a congressional ban that prevents the agency from producing work that promotes gun control.
A potential assault weapons ban has been lambasted by congressional Republicans, who are expected to fiercely oppose any additional gun ownership restrictions. Last week Senate Minority Leader Mitch McConnell argued that Congress does not have the time to address a controversial subject such as gun reform before it tackles fiscal issues like the debt ceiling.
"The biggest problem we have at the moment is spending and debt," McConnell told ABC's "This Week" program. "That's going to dominate the Congress between now and the end of March. None of these issues, I think, will have the kind of priority that spending and debt are going to have over the next two or three months."
There were seven mass shootings across the U.S. in 2012, according to a Mother Jones analysis, defined as shooting incidents that killed at least four people. The news organization calculated there have been at least 62 mass shooting events since 1982 -- more often than not, the perpetrators obtained their weapons legally.
© Copyright IBTimes 2023. All rights reserved.