Obama to head out on "listening" bus tour for jobs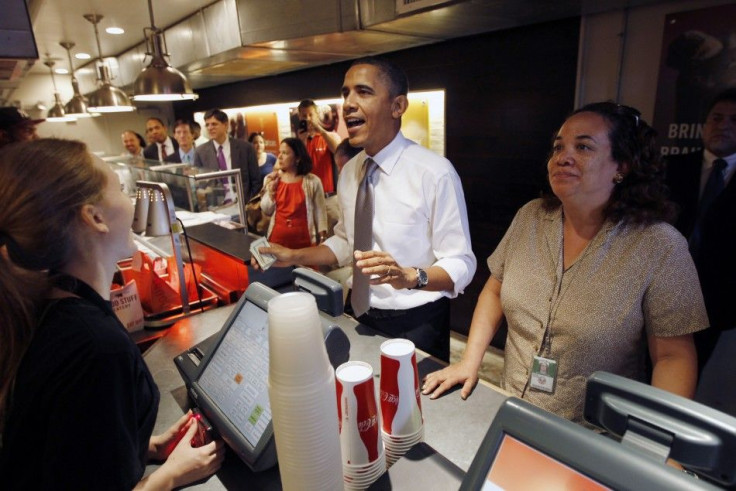 President Barack Obama will take a three-day campaign-style bus tour through the American Midwest this month, as he tries to refocus attention on jobs seen as vital to his chances of winning re-election in 2012.
The president will be on the road between August 15 and August 17 "listening" to the American people about jobs and the economy, White House press secretary Jay Carney said.
Obama's approval ratings have been dented by persistently high U.S. unemployment and acrimonious negotiations in Washington to raise the country's $14.3 trillion debt ceiling.
These talks dragged on for months and hammered the stock market as they crept right up to an August 2 deadline to avoid default, disgusting many Americans and dimming their view of politicians of all stripe.
Polls showed that many blame Republicans more than they do Obama, a Democrat, for the mess. But his party knows that it has a lot to lose from public anger toward Washington.
This provides a strong incentive for Obama to change the conversation to jobs, the dominant concern among voters ahead of the 2012 election, as he heads to the U.S. heartland after being trapped in Washington for weeks by the deficit talks.
Obama wants Congress to extend the payroll tax cut and emergency unemployment benefits, due to expire at the end of this year, and says he will be talking about other ideas to lift the economy in coming weeks.
"The American people have been continuing to worry about the underlying state of the economy, about jobs, about their wages," he told reporters before a Cabinet meeting.
Obama's remarks came as he heralded a deal to shrink the deficit by $2.1 trillion over the next 10 years, which removes the risk of default but could limit the scope for additional government spending to encourage more hiring.
Carney, acknowledging there was "no magic bullet" to bring the level of unemployment down, said the administration was refocusing attention on jobs now the debt deal was done.
Part of the deficit package includes the creation of a special congressional commission to consider ways to lower the deficit that is expected to review reforms to entitlement programs like Medicare, as well as the U.S. tax code.
"The creation of a super committee in Congress to consider additional deficit cuts ensures that the budget battle will continue throughout the year in Congress," said Alex Brill, a research fellow at the American Enterprise Institute in Washington. "The president needs to find new agenda items to pursue."
© Copyright Thomson Reuters 2023. All rights reserved.