Obama In Mexico To Strengthen Trade Ties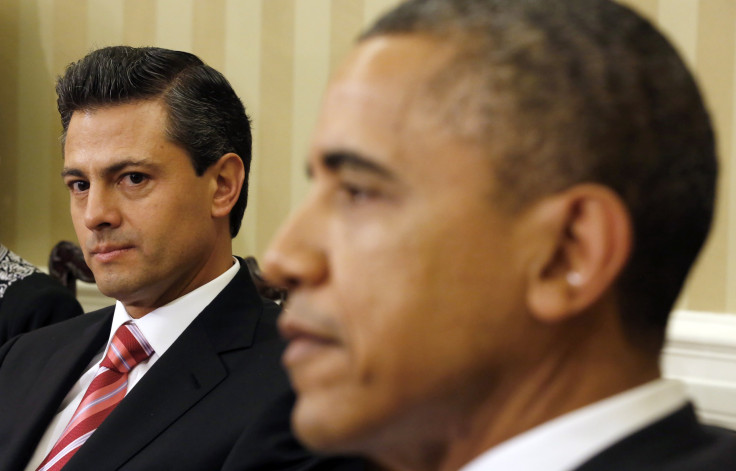 U.S. President Barack Obama is in Mexico City on Thursday on the third of his three-day trip there. Pop quiz: Who's the president of Mexico?
That would be Enrique Peña Nieto, who is also a member of the Institutional Revolutionary Party and the first president in 12 years to not hail from the conservative side of Mexican politics.
Naturally, one of the topics up for discussion is the alleged plethora of Mexican nationals who keep leaking across the Mexican-U.S. border, a source of much consternation and campaign stump speeches for U.S. presidential candidates. Other conversations may revolve around the rampant violence of the drug trade, as well as the fact that Mexico is also the U.S.'s largest trading partner of legal goods.
In fact, Obama is hoping to make trade the focus of the trip. Illicit border crossings of both people and drugs, while sexier, are thorny issues on both sides of the border. "The White House is hoping to highlight the economic opportunities that would emanate from a modernized immigration system," Ana Navarro, a Republican strategist who met with Obama and other White House officials about the trip this week, told Bloomberg. "He doesn't want security and violence issues to dominate this trip."
Obama himself said in a press conference on Tuesday before his departure that "a lot of the focus is going to be on economics. "
"We've spent so much time on security issues between the United States and Mexico that sometimes I think we forget this is a massive trading partner responsible for huge amounts of commerce and huge numbers of jobs on both sides of the border," Obama told reporter. "We want to see how we can deepen that, how we can improve that and maintain that economic dialogue over a long period of time."
Peña Nieto seems to concur, and despite his reported worry over the proposed temporary work permits in the new U.S. immigration bill, Peña Nieto won't want to seem like he's interfering in U.S. politics, analysts said.
"I doubt Peña Nieto will get into a public conversation about immigration reform, but I would expect he'll make comments about the protection of human rights for Mexican migrants," Javier Treviño Mexican congressman from the northern state of Nuevo Leon told the Washington Post.
Obama will also travel to Costa Rica on Friday for a meeting with several other Latin American leaders. This is Obama's third official trip to Mexico and his first since his re-election.
© Copyright IBTimes 2023. All rights reserved.