Obama To Roll Out New Law Granting Sick Leave To Workers Employed By Federal Contractors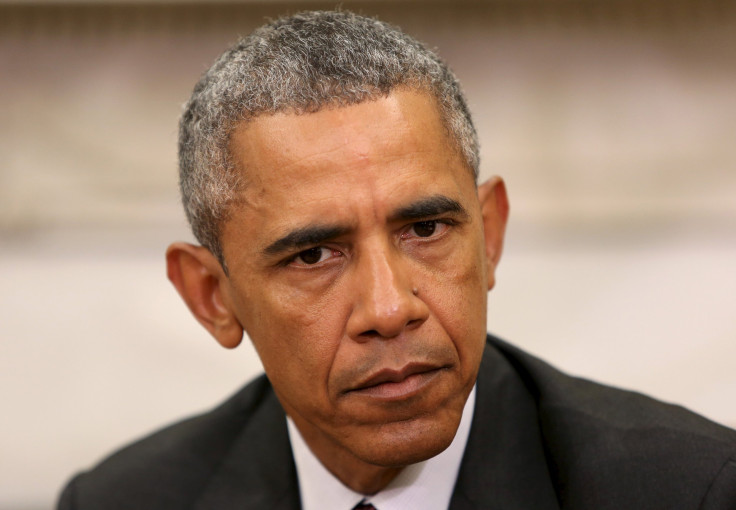 U.S. President Barack Obama signed an executive order Monday that would require companies working with the federal government to provide sick leave benefits to their employees. The move is the latest in a series of measures designed to improve employee benefits at federal contractors.
Speaking to a crowd of nearly 800 Monday in Boston as part of the president's Labor Day observance, Obama unveiled the executive order the White House had announced earlier. He sharply contrasted his policies with those of Republicans and GOP presidential candidates, referring to one unnamed candidate who had said "busting unions prepared him for fighting ISIL. I'm not making that up."
The order extended sick leave benefits to about 300,000 employees of federal contractors, who will now be entitled to earn up to seven days of sick leave annually.
The executive order granting the new benefits stated: "This order seeks to increase efficiency and cost savings in the work performed by parties that contract with the Federal Government by ensuring that employees on those contracts can earn up to 7 days or more of paid sick leave annually, including paid leave allowing for family care. Providing access to paid sick leave will improve the health and performance of employees of Federal contractors and bring benefits packages at Federal contractors in line with model employers, ensuring that they remain competitive employers in the search for dedicated and talented employees. These savings and quality improvements will lead to improved economy and efficiency in Government procurement."
Speaking at the Greater Boston Labor Council Labor Day Breakfast at the Boston Park Plaza Hotel and Towers in Boston, Obama said: "This is a day where we celebrate the grit, the resilience, and the hard work of America's working families."
The president couched Monday's executive order announcement in terms suggesting it should be the first step in Congress making "a national paid family and medical leave a reality for all Americans ... It's past time to do it. It will be good for business. It's not bad for business," he said.
"Right now, about 40 percent of private-sector workers -- 44 million people in America -- don't have access to paid sick leave. ... Now, unfortunately, only Congress has the power to give this security to all Americans. But where I can act, I will. And, by the way, I just did," he said. "As we were flying over here, I signed a new executive order requiring federal contractors to allow employees who work on our contracts to earn up to seven paid sick days a year. This will give about 300,000 working Americans access to paid sick leave for the first time.
"It builds on the growing momentum of people who are answering the call on paid leave across the country. Right now, you've got dozens of cities -- Pittsburgh, Philly, Atlanta -- who have adopted paid sick leave or paid family leave policies. You've got companies like Hilton, and Johnson & Johnson, and others that are expanding paid leave. Microsoft, Facebook requiring it from their contractors and vendors. And we've seen that many companies, including small businesses, support these policies because they understand it helps with recruitment and retention. It helps you keep good employees. One study in Connecticut shows that three-quarters of companies are on board with their state's paid sick leave law," Obama said.
"And here in Massachusetts, you're already ahead of the game. Last fall, folks easily approved paid sick leave throughout the commonwealth. In May, Mayor Walsh signed an ordinance allowing for up to six weeks of paid parental leave for city employees. You all should be proud of what you're doing for working families in this state," Obama told the Boston crowd.
A set of similar orders in the past have boosted pay and eased working conditions for employees of federal contractors, which included expanding overtime pay, banning discrimination based on sexual orientation and raising the minimum wage for federally contracted workers to $10.10.
Labor Secretary Thomas Perez praised Obama's move but noted that the U.S. was still lagging behind other countries on the issue of paid leave. "Regrettably, here it's become a partisan issue where certain Republicans have said, 'We can't afford to do this,'" Perez said, according to CNN. "The Republican Party is out of step with similar conservative governments around the world … everyone else in the world has recognized how common sense this is."
Obama has also tried to push through similar legislation for all workers, but his efforts have been stymied by Congressional Republicans and business owners. Jack Mozloom, media director of the National Federation of Independent Business, said the measure could harm businesses that couldn't afford to extend the benefit.
"Mandatory paid leave is a great benefit for workers whose employers offer it," Mozloom said, according to the Wall Street Journal. "For workers whose employers can't absorb the cost, it's an arbitrary expense that will ultimately result in shorter hours, lower pay or disappearing jobs."
The White House said that it had not quantified the cost the new rules would place on businesses with federal contracts but said that the higher worker retention rates would offset the costs, according to CNN. Federal authorities also reportedly claimed that the new rule would not cause federal spending to rise.
© Copyright IBTimes 2022. All rights reserved.
FOLLOW MORE IBT NEWS ON THE BELOW CHANNELS