Obama Talks Manufacturing Amid Positive Jobs Report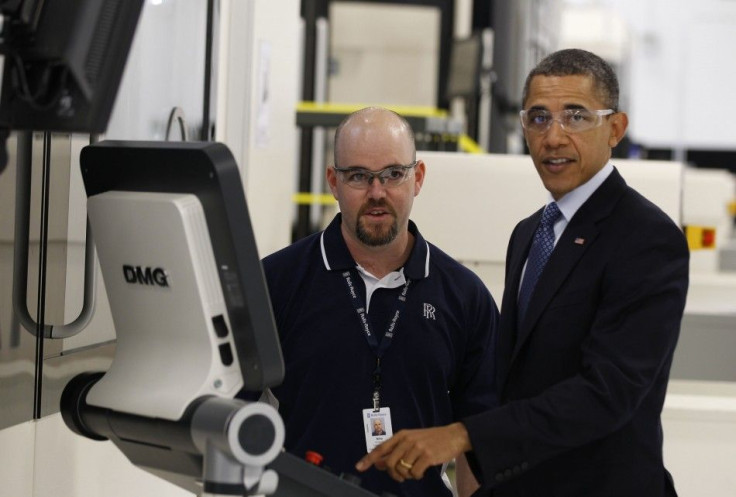 With a February jobs report showing more than 200,000 new hires, President Barack Obama Friday pushed his manufacturing agenda in a Virginia speech about a rebounding economy and job growth.
Our job now is to keep this economic engine churning, Obama told a crowd of Rolls Royce employees in Prince George, Va. We can't go back to the same policies that got us into this mess. We can't go back to an economy weakened by outsourcing, bad debt and phony financial products.
U.S. employers hired 227,000 workers in February, with private employment rising by 233,000 jobs. The manufacturing sector, meanwhile, added 31,000 jobs, for a total of 444,000 jobs since 2010. Despite the positive report, the unemployment rate held steady at 8.3 percent.
The president said a strong U.S. manufacturing sector was key to a robust, lasting economy. He also touted his administration's efforts to bailout the auto industry, a move that kept GM and Chrysler afloat and allowed them to turn profits.
Tours Rolls Royce Plant
While in Virginia, Obama toured a Rolls Royce plant that makes jet engine parts for companies like Boeing. Rolls Royce is planning an expansion that will add 140 jobs in the area.
Obama's remarks were similar to a speech he gave Feb. 17 to an audience of Boeing employees in Washington state, where he called Congress to work on a tax plan benefiting companies that operate in the U.S.
In his Virginia speech, Obama outlined a plan for a national network of manufacturing operations and schools, calling them institutes of manufacturing excellence where industry and educational facilities can collaborate on new ideas and new technology, new methods and processes.
Think of this as a place where companies can share access to cutting-edge capabilities at the same time students and workers are picking up new skills, said Obama.
To enact a $1 billion federal grant proposal for as many as 15 regional hubs aimed at boosting manufacturing, however, Congress would have to act - a suggestion that drew a laugh from the crowd. Instead, Obama said the administration would launch a pilot program.
I want everybody thinking about how are we making the best products, how are we harnessing new ideas and making sure they're located in the United States, the president said.
--
© Copyright IBTimes 2023. All rights reserved.