Obama's Asia Trip 2014: Examining Potential Trans-Pacific Partnerships (TPP) In Japan, Korea, Malaysia and The Philippines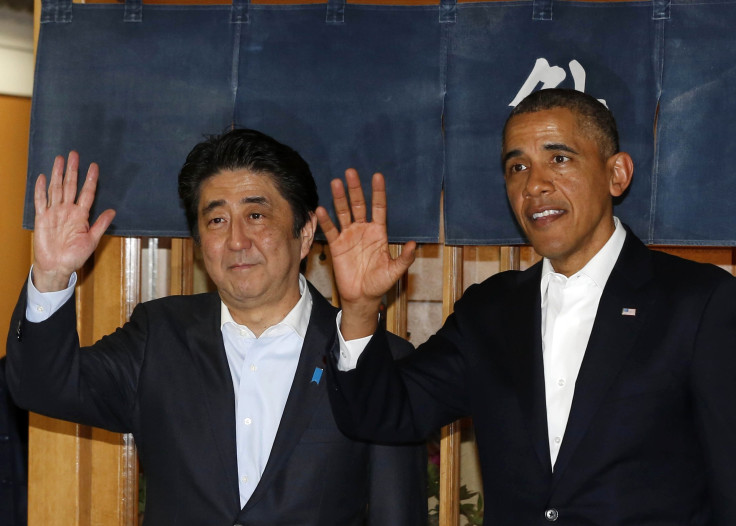 The White House is being tight-lipped about any new agreements sought by President Barack Obama on his current Asia trip. But a look at previous visits to the region suggests that bilateral trade partnerships and high-profile deals with American manufacturers could be in the pipeline.
Obama arrived in Japan Wednesday for a dinner with Prime Minister Shinzo Abe during a weeklong trip that misses China but includes South Korea, Malaysia and the Philippines. The trip focus on geopolitical alliances and tensions in the region as part of the president's oft-stated "pivot to Asia."
The U.S. wants to reassure Tokyo of the administration's support for Japan amid an increasingly tense territorial dispute with China over the Diaoyu/Senkaku islands. While Obama's trip is seen as largely a political visit, one filled with formal state dinners and visits to the Meiji shrine and other cultural relics, the president is expected to make a push for the Trans-Pacific Partnership (TPP). That huge regional economic deal would open up trade channels with several Asian allies and allow the U.S. to export more to countries like Japan, whose lucrative automotive sector is highly protected.
The Japan portion of the deal will not likely be announced during Obama's current visit as a result of Congressional opposition from Democrats, who are wary that more free trade could potentially end up moving American jobs overseas. Still, reaching an agreement would likely be a major breakthrough for American automakers and U.S economic relations in the rest of the region.
"We expect that… we will be able to conclude an agreement," National Security Adviser Susan Rice said last week. "This remains a very important aspect of our rebalance to the Asia-Pacific region, one that holds great promise for the countries in the region as well as for the United States."
Automakers like Ford (NYSE:F) or General Motors (NYSE:GM) stand to benefit the most from a trade deal with Japan or Korea, which both currently import a marginal amount of American cars compared to what they export to the U.S.. According to data by the Japanese Automobile Importers Association, the two companies only accounted for one percent of total new passenger cars registered in Japan last year. The TPP would likely boost those numbers. However, there is resistance from labor unions and industry lobbyists concerned that free trade deals in the past have done less than expected to boost American exports or jobs, because companies ended up moving jobs outside of the U.S.
For example, a deal struck between the United States and South Korea in December 2010 was set to boost U.S. exports by $11 billion over three years, and expected to support an additional 70,000 local American jobs, but neither of those goals was met.
The Southeast Asia portion of Obama's trip, to Malaysia and the Philippines, makes up for a trip last year to four countries in the region -- Indonesia and Brunei as well as the previous two -- that was canceled because of the U.S. government shutdown.
During previous trips to Indonesia and Brunei, Obama announced big economic deals for U.S. companies.
On an official visit in 2011 to Indonesia, where he spent a part of his childhood, Obama announced a $22 billion order for more than 200 Boeing 737 jets from local airline Lion Air. The White House described the agreement as one of the largest economic deals between the U.S. and the Southeast Asian country, and in fact it was the biggest order by value ever for the largest U.S. exporter, the Boeing Co (NYSE:BA), as well as the second-biggest airplane order in the entire history of aviation.
During the same trip, Obama also announced that General Electric (NYSE: GE) would be selling 50 engines to flag-carrier airline Garuda Indonesia, in an agreement worth $3.1 billion.
That same year, United Technologies (NYSE: UTX) also signed a $325 million deal for the Royal Brunei Armed Forces Support Helicopter Project, supplying the country with 12 Black Hawk helicopters.
With Malaysia, bilateral ties are robust. The U.S. continues to be one of Malaysia's biggest importers, with American exports to Malaysia reaching a record high of over $18 billion in 2010.
According to the Office of the United States Trade representative, data from 2012 showed that the United States' biggest exports to the country were machinery ($7.2 billion), aircraft ($1.2 billion), and iron and steel ($364 million), in addition to an array of agricultural exports.
Similarly, 2012 data showed that the Philippines imported mostly machinery ($3.57 billion), aircraft ($4.53 million) and agricultural items from the U.S as well.
A lot of that machinery comes from Caterpillar (NYSE: CAT), an American company with a big presence in several Asian countries, where sales of construction and earth-moving equipment are buoyed by booming economies. A Caterpillar spokesperson said that no deal was in the works in either country in connection with Obama's visit. Similarly, GE did not disclose any deals in the pipeline in the region.
As for China, it may not be on the agenda this time, but Chinese companies are still buying American. Boeing announced on Tuesday, as Obama left Washington, that China-based Shandong Airlines had ordered 50 of its current and future models of the 737.
© Copyright IBTimes 2023. All rights reserved.
FOLLOW MORE IBT NEWS ON THE BELOW CHANNELS