Obama's Clean Power Plan: Solar Energy, Panels Expected To Increase In Homes As Costs Continue To Drop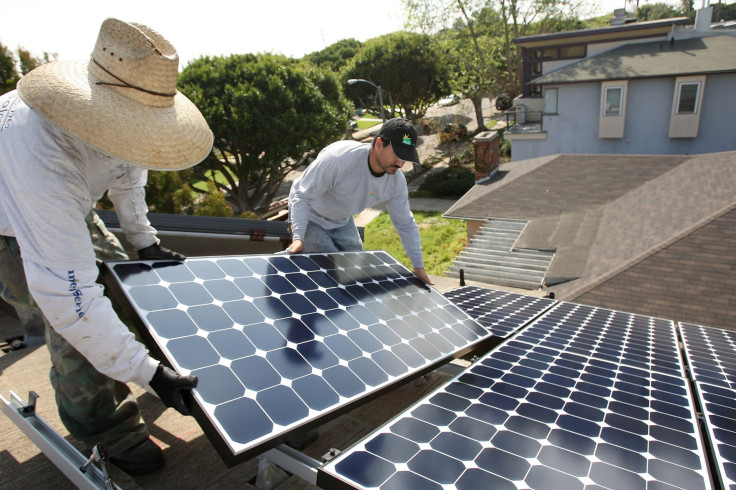 If President Obama has his way, a growing number of states will be using sunshine for more than just a healthy dose of Vitamin D. From the East Room of the White House Monday, Obama laid out his ambitious plan for Americans to employ solar energy to power their homes, and energy experts predict they will, largely due to increasing affordability.
"The trend we have seen over the past six years has been a massive decrease in solar energy prices for consumers," said Rhone Resch, CEO of Solar Industries Energy Association, a group that found solar technology coupled with a growing industry has led to plummeting prices over the past decade. "Solar energy is significantly lower than natural gas, and those rates are guaranteed for 20 years. The price [of natural gas] might be low today, but you can't lock in that price for 20 years, like you can with solar energy."
The Popularity Of The Solar Industry
The U.S. residential solar market grew by 76 percent during the first quarter in 2015, with 437 new megawatts of solar electric devices installed in the first three months of the year, a trend that the Solar Industries Energy Association attributed to falling prices. The average cost of a residential solar system has become lower than it was in 2010 by 50 percent. Under Obama's Clean Power Plan, which sets targets and guidelines for how to meet the new carbon emission levels, Americans can expect to see even further declining costs, Resch said. The proposed regulations to combat climate change will likely spur an exponential amount of additional solar deployment, along with the 50,000 megawatts that are expected to come online--meaning they will be fully generating power and past the testing phase- before 2020, Resch's group predicted.
Solar Industries Energy Association was not alone in its optimistic outlook for the future of solar energy in American homes. Americans will continue to install rooftop solar as it becomes more and more affordable, especially if Obama's plan passes, Gabe Elsner, the executive director at the Energy and Policy Institute, anticipated. Prices are expected to decrease an additional 40 percent by 2017 according to Deutsche Bank, and Bloomberg New Energy Finance forecast a total of $3.7 trillion in solar investment between now and 2040.
"The cost of renewable energy is plummeting and becoming more cost-competitive every year... Even if we ignore the negative impacts of fossil fuels, clean energy will be able to compete head-to-head with fossil fuels in the market, and when we factor in energy efficiency, the Clean Power Plan will save families money on their bills," said Elsner, whose Washington, D.C.-based pro-clean energy think tank works to expose attacks on clean technology and counter misinformation by fossil fuel and utility interests.
Differing State-By-State
Although solar industry specialists have estimated that the Clean Power Plan will cause an uptick in the number of residential solar systems deployed each year, exactly how much of an increase will largely be determined by subsidies, which will differ state by state. States have significant policy flexibility under the plan, and while the new regulations encourage families and businesses to invest in solar power, they're not require to do so, Resch said. States will have until 2018 to submit their plans, and many states will most likely offer subsidiaries to residential homes that invest in solar energy, because the states can then count those resulting emission reductions towards the Clean Power Plan.
Still, the specifics of Obama's plan as they relate to solar energy were left open to interpretation. "We will have to wait another few years to find out if and how exactly distributed solar will be incentivized in each of the 50 states," said Julie Pyper, a senior writer at Greentech Media, a leading news site that covers clean energy. "A lot could change with respect to the economics and business models around solar in that time."
Currently, the way solar energy could benefit its users varies dramatically state by state. Illinois, for example, offers a rebate program for a variety of sectors, including residential, commercial and government buildings that use solar energy. Many states offer similar rebate programs, but the details of those programs differ. Even people in California and Arizona were putting up solar panels with little to no incentives, often through a lease structure with a solar company, Pyper said.
Prices of actual solar energy vary per state, as well. In 2011, it cost California homeowners on average about $10,000 to go solar, but in Florida it cost residents about $25,000. Still, the average Floridian would save around $30,000 to $39,000 over the course of 20 years, and in California, New York, Nevada, New Mexico and Arizona those savings could reach beyond $40,000, Cost of Solar reported.
Green For Everyone
Critics of the Obama plan say low-income families won't be able to afford the type of renewable energy that the proposal calls for, contrary to what others have said. Proponents for the plan and the move toward solar said the government is working hard to create initiatives to help families strapped for cash make the switch to renewable energy, such as solar panels.
Components of the initiative announced last month by the Obama administration include a National Community Solar Partnership that would do the following: unlock access to solar energy for nearly 50 percent of households and businesses that do not have adequate roof space to install solar systems; set a goal to install 300 megawatts of renewable energy in federally subsidized housing; provide technical assistance to make it easier to install solar; and make available more than $520 million in independent commitments from philanthropic and impact investors and states and cities to advance community solar energy and scale up solar and energy efficiency for low- and moderate-income households.
Solar business models are all about devising ways to spread out the up-front costs required for solar installation, so that customers can start saving money on their electricity bills from day one, said Pyper, the Greentech writer.
"Low-income families can afford solar because utilities and private companies are setting up programs where they cover the costs, and for the most part, these families simply see a savings on their bills."
FOR FREE to continue reading
✔️ Unlock the full content of International Business Times UK for free
offer available for a limited time only
✔️ Easily manage your Newsletters subscriptions and save your favourite articles
✔️ No payment method required
Already have an account?
Log in
© Copyright IBTimes 2023. All rights reserved.