Obama's Speech In Jerusalem: Two Speeches For Two Peoples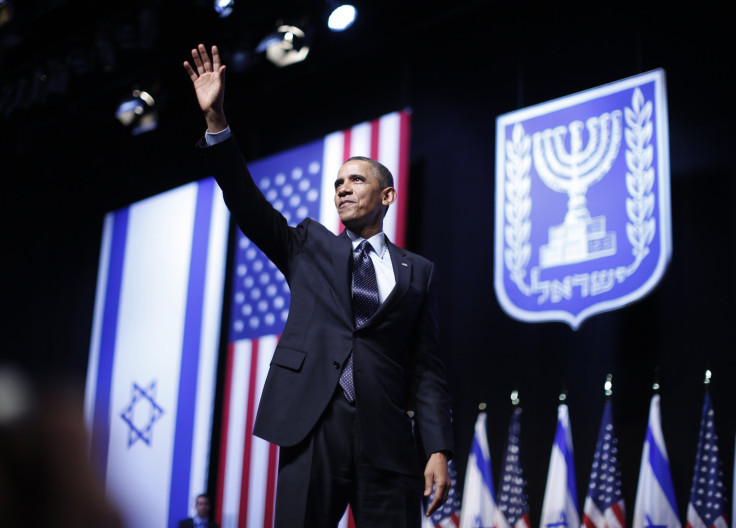 U.S. President Barack's Obama speech to Israeli university students in Jerusalem on Thursday was a rousing call to peace, and a message to young Israelis, whom he called "the Joshua generation," that the future was theirs to decide.
The president spent the first half of his hourlong speech praising Israel, recounting the hardships it had taken the Jewish people to establish their state, and reaffirming its right to exist. He spent the second half, however, speaking to the Palestinian cause.
"The Palestinian people's right to self-determination and justice must ... be recognized," Obama said. "Put yourself in their shoes - look at the world through their eyes. It is not fair that a Palestinian child cannot grow up in a state of her own, and lives with the presence of a foreign army that controls the movements of her parents every single day."
The speech was received very well by the audience, who gave copious and hearty rounds of applause and standing ovations to statements Obama made supporting both the Palestinians and the Israelis. He took the time to call out Hamas and Hezbollah as terrorist organizations, a label that the U.S. and Israel have been trying to pressure the European Union and other Western states into applying to these groups. He also touched briefly on the Syrian conflict, saying, "Assad must go."
The only small hiccup came about halfway through the speech when a heckler began to shout at the president. The Jerusalem Post and Reuters reporters identified the man as a 24-year-old Arab-Israeli from the northern town of Eilabun, who shouted, "How do you call for peace and support the occupation killing our people? What do you think of apartheid wall? Who killed Rachel Corrie?"
Corrie was a young American pro-Palestinian activist who was killed in 2003 when she was crushed by an Israeli military bulldozer in the Gaza strip. In 2012 an Israeli court ruled that the state had no responsibility in her death.
Obama responded magnanimously, joking that his people had planted the heckler to "make him feel at home," a reference, perhaps, to his first State of the Union address in 2009 when a Republican congressman shouted "you lie!" during the speech.
As was expected, no major policy breakthroughs were trumpeted nor new initiatives announced. Obama used his time with the young Israelis to connect with their feelings of frustration, and implore that they take to lead. "Speaking as a politician, I can promise you this: Political leaders will not take risks if the people do not demand that they do. You must create the change that you want to see," he said.
Speaking off script for just a few minutes, Obama spoke about his meeting on Wednesday morning with a group of Palestinian youth, ages 15-22, and said he believed that any Israeli parent would want these children to succeed.
© Copyright IBTimes 2023. All rights reserved.