Obama In Israel, Day 2: Ramallah, Abbas And Jerusalem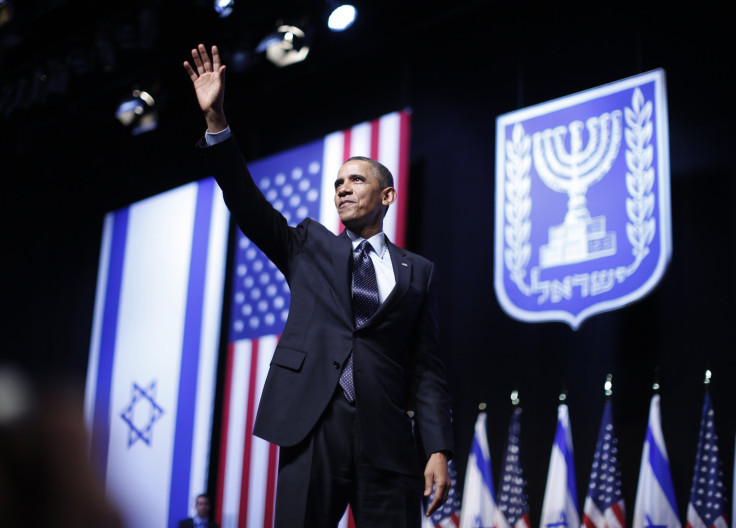 2:45 p.m. EDT: Obama says he accepts the award on behalf of the American people. And with that, dinner is served.
2:30 p.m. EDT: Peres finishes speaking, says "Toda raba from a grateful nation." Peres officially presents Obama with the Medal of Distinction, Israel's highest honor.
2:15 p.m. EDT: Obama has arrived at Peres's residence for the official state dinner. Peres begins his speech.
Watch live as Obama receives the Presidential Medal of Distinction from Shimon Peres.

Live video from your iPhone using Ustream
2:06 p.m. EDT: Photo from Israeli journalism Chaim Goldberg of John Kerry and Yair Lapid.
2:00 p.m. EDT: See photos of Palestinian protests here.
1:45 p.m. EDT: Israeli President Shimon Peres will present Obama with the Presidential Medal of Distinction "for his unique contribution to the security of the state of Israel," Times of Israel reports. This is the first time in the history of U.S.-Israel relations that a U.S. president has been given this award.
1:35 p.m. EDT: Ambassdor Michael Oren arrives at President Shimon Peres's residence for dinner with Obama.
1:30 p.m. EDT: Meanwhile, off the coast:
1:20 p.m. EDT: Reactions to Obama's speech have been mixed. Member of the Knesset and Likud party member Ofir Akunis praised the speech as proving "the bond between Israel and US has grown stronger." MK Itzik Shmuly with the Labor party in the opposition said the students at the speech should "take Obama's words as a demand and not just a reccomendation." Bayit Yehudi party leader Naftali Bennett was the first to react, and said Obama was "clearly speaking out of friendship" for Israel, but that "the time has come for new and creative concepts for solving the conflict in the Middle East. A nation cannot be an occupier on its own land."
The students who attended the speech were handpicked by the U.S. Embassy in Israel to attend. One Palestinian student felt this:
One Israeli student named Yahel told Haaretz that he enjoyed the speech, but there were no suprises. An accompanying friend told the report that he didn't enjoy the speech, mostly because he didn't think what Obama said about "Abbas being a partner in peace" was true.
For his part, Prime Minister Netanyahu thanked Obama for his "unconditional support of Israel." The two have relationship that's been characterized as "frosty" in the past, but this trip saw Obama call Netanyahu a friend.
1:15 p.m. EDT: Haaretz reporting guests are beginning to arrive at the state dinner with Obama at President Shimon Peres's residence.
1:10 p.m. EDT: Video of Obama's heckled interruption during his speech in Jerusalem.
12:50 p.m. EDT: One of the president's supporters on Twitter put out this picture of the crowd at Obama's speech.
12:40 p.m. EDT: Obama to attend official dinner tonight with Netanyahu, Peres and the first Ethiopian Miss Israel, Yityish Aynaw.
12:10 p.m. EDT: Full text of Obama's speech at the International Convention Center in Jerusalem available here.
12:00 p.m. EDT: Israeli media reporting the man who heckled Obama during his speech has been detained. Reports are conflicting as to what the man shouting, but it was probably something about freeing Palestine. Channel 2 News said it may have been about convincted spy Jonathan Pollard. Obama responded magnanimously, joking that his team had arranged for the heckle, as it makes him feel more at home.
11:35 a.m. EDT: Haaretz imagines how Obama would have responded had he been put through the same questioning every other traveler to Israel must endure.
11:30 a.m. EDT: Obama concludes his hour-long speech, peppered with multiple standing ovations with the words "thank you very much" in Hebrew: "toda raba."
10:35 a.m. EDT: Watch the president's speech in Jerusalem live at the White House site.
10:30 a.m. EDT: American and Israeli national anthems have been performed at the International Convention Center in Jerusalem. U.S. Secretary of State John Kerry and the American delegation have arrived. Obama's speech to start in 30 minutes.
10:25 a.m. EDT: Video from Wednesday of Obama's limo breaking down in Jerusalem.
10:20 a.m. EDT: Two young women at the International Convention Center show off the cake they made for Obama.
10:20 a.m. EDT: Video of today's joint press conference with Abbas and Obama.
10:10 a.m. EDT: The stage is set for Obama's speech at the International Convention Center in Jerusalem. The speech is scheduled for 5 p.m. local time, 11 a.m. EDT.
10:05 a.m. EDT: Picture of the Greenpeace activists who were detained earlier on Wednesday for protesting Arctic drilling by hanging off of the Bridge of Strings in Jerusalem
10:00 a.m. EDT: Influential American comedian Stephan Colbert is apparently no friend of Obama's policies on Israel.
10:00 a.m. EDT: Isareli outlet YNet News has this article on how the King David Hotel prepared for Obama's visit. Obama, they say, is the fifth U.S. president to visit Israel (Nixon was the first), and he's trailing 500 reporters.
9:55 a.m. EDT: There exists an Obama in Israel Pinterest page.
9:50 a.m. EDT: A protest banner in the West Bank.
9:50 a.m. EDT: Video of Obama arriving at the Israel Museum, touring with Netanyahu.
9:40 a.m. EDT: Photo of Obama trying some matzah after visiting the Israel Museum on Wednesday morning. The Jewish holiday of Passover begins the evening of Monday.
9:35 a.m. EDT: Photo from earlier on Wednesday of Obama at the Israel Museum, examining new Israeli technology
9:35 a.m. EDT: Obama is scheduled to give his big speech of the trip to a crowd of students at the International Convention Center in Jerusalem at 11 a.m. EDT, 5 p.m. local time. Huge lines and hour-long waits are reported. Some people have been in place waiting since noon local time, sources report.
9:30 a.m. EDT: The press conference with Abbas and Obama concluded around 2:30 p.m. local time. Obama visited a nearby youth center to meet young Palestinians before boarding Marine One to fly back to Jerusalem.
9:30 a.m. EDT:
9:25 a.m. EDT: The joint press conference between Obama and Abbas began at 1:30 p.m. local time. Abbas opened the conference by welcoming Obama to Palestine and said the talks were "good and useful."
"The Palestinian people aspire to their rights, to freedom and independence ... to exercise normal life over the independent state of Palestine along the 1967 borders with Jerusalem as its capital. We believe this is possible," Abbas said. Jerusalem Post reporter Herb Kernion also reported that Abbas said he will honor agreements, but he can't disarm Hamas.
Obama agreed that "Palestinians deserve an end to the occupation and the daily indignities that come with it" and that the U.S. "is deeply committed" to "an independent and sovereign state of Palestine." However, he also hinted that Palestinians cannot have preconditions to peace talks.
On the issue of the settlements, Obama said he "made it clear" to Netanyahu that his settlement policies "were not constructive" or "appropriate." Abbas was more direct, calling them "illegal" and said the whole world considered them so.
9:10 a.m. EDT:
https://twitter.com/IsraeliPM/status/314721300092432385
9:10 a.m. EDT: A leaked report indicates a softening of Abbas' position on Israeli settlements in the West Bank, the New York Times said. "No one benefits more from the resumption of the peace process than Palestinians, and no one loses more in its absence," the memo says. "If this situation continues, I will be forced to ask Prime Minister Netanyahoo [sic] to resume his responsibilities." This last sentence points toward a previous threat Abbas made to dissolve the Palestinian Authority and turn control of the West Bank over to the Israelis if peace talks do not proceed.
During the talks between the two presidents, Hamas Prime Minister Ismail Haniyeh told the Palestinian Ma'an News Agency that "American politics perpetuate the Israeli occupation and settlements in Palestine."
9:00 a.m. EDT: Various protests have been trying to attract Obama's attention throughout the day. Greenpeace activists were removed from the Bridge of Strings in Jerusalem earlier this morning, prior to Obama's visit to the Israel museum: They were protesting arctic drilling.
U.S. flags were torched in Bethlehem, Times of Israel reported, and Haaretz said there was a distinct lack of American flags flying in Ramallah when Obama arrived.
The Jerusalem Post said a 300-strong protest began in Ramallah when Obama and Abbas began their meeting. Protestors clashed with security forces, shouting "Go home you devil, we don't want anything peaceful here" at Obama, the Times of Israel said. Haaretz said many protestors were holding up shoes, a sign of utmost disrespect in the Arab world.
8:45 a.m. EDT: After departing the Israel Museum, Obama traveled to Ramallah, for a much-anticipated meeting and subsequent joint press conference with Abbas. Obama landed in Ramallah at 10:54 a.m. local time, and the two began their meeting at 11:15 a.m. Reuters reported that Abbas vociferously condemned last night's rocket attacks coming from Gaza, saying, "We condemn violence against civilians regardless of its source, including rocket firing." The IDF announced they would not be retaliating.
8:40 a.m. EDT: The president began his day with a visit to the Israel Museum with Prime Minister Benjamin Netanyahu and Israel's Ambassador to the U.S. Michael Oren. Roads to and surrounding the museum were blocked off ahead of time, the Times of Israel reported. Obama toured the tech section of the museum, showcasing Israel's technological innovations, as well as the Dead Sea Scrolls. Obama also posed for pictures with several young Israelis and soldiers, one of whom was wounded in action, Haaretz said.
8:30 a.m. EDT: Overnight during the president's stay, rocket sirens were heard in the southern town of Sderot, close to the border with Gaza. One rocket exploded in the backyard of an Israeli home, Haaretz said, but no one was hurt.
Obama's schedule for Thursday:
- Visit the Israel Museum, where he will view the Dead Sea Scrolls and also attend a technology expo
- Travel to Ramallah, West Bank, where he will be greeted with an official arrival ceremony
- In the afternoon, have a bilateral meeting with Palestinian Authority President Abbas
- Working lunch with Palestinian Authority President Abbas followed by a press conference
- Cultural event at Al-Bireh Youth Center; meet with Palestinian Authority Prime Minister Fayyad
- 11 a.m. EDT: speech at the Jerusalem Convention Center
- Dinner hosted by Israeli President Peres; receive the Presidential Medal of Distinction
FOR FREE to continue reading
✔️ Unlock the full content of International Business Times UK for free
offer available for a limited time only
✔️ Easily manage your Newsletters subscriptions and save your favourite articles
✔️ No payment method required
Already have an account? Log in
© Copyright IBTimes 2023. All rights reserved.