Is Obama's War Against ISIS Legal? US Airstrikes In Syria And Iraq Raise Constitutional Concerns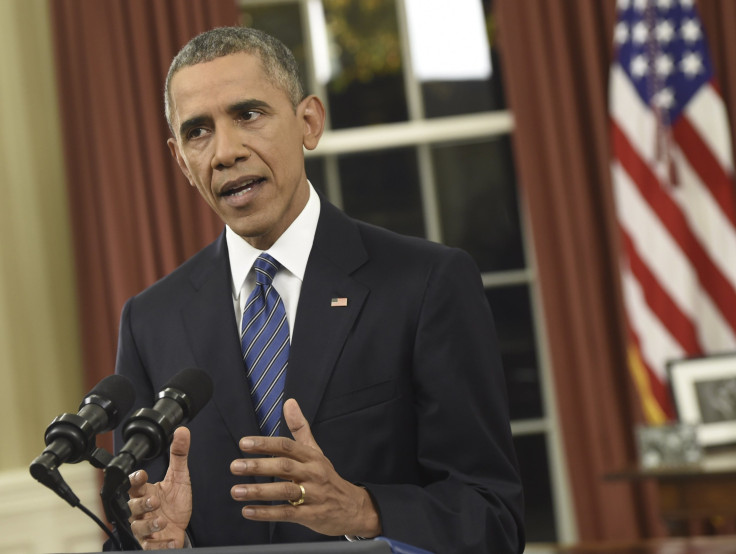 During his rare prime-time speech from the Oval Office Sunday night, U.S. President Barack Obama underlined the stark reality that came with last week's Islamic State group-inspired shootings in San Bernardino: America is at serious risk from Islamic extremism. Yet buried deep in Obama's somber 13-minute speech, during which he called for a continued respect for religious freedom, he touched upon another reality that threatens to undermine the U.S. Constitution: The war against ISIS in Syria and Iraq could be illegal.
Obama called on Congress toward the end of his speech to "go ahead and vote to authorize the continued use of military force against these terrorists," reminding millions of Americans watching the speech at home that Congress has not yet given legal authority for the war against the terror group. Until now, the 16-month war against ISIS, which has been waged largely from the air alongside Western and Arab partners, has been fought using legislation that was passed on Sept. 18, 2001, to specifically target those responsible for 9/11, namely al Qaeda. The White House claims it can use the 14-year-old existing legislation to fight its war because the Islamic State group is "the true inheritor" of Osama bin Laden's legacy and had demonstrated obvious links, claimed a White House official last year.
While ISIS is an offshoot of al Qaeda, the two groups severed links in early 2014 after a long power struggle and disagreement over policy, leading conservatives and liberal critics of the Obama administration to question the White House's military campaign against ISIS.
"The administration's claims are factually incorrect and fundamentally dangerous," said Chris Anders, senior legislative counsel for the American Civil Liberties Union Washington Legislative Office, and Hina Shamsi, director of the ACLU National Security Project, in a September 2014 analysis piece on the war against ISIS. "The claim that the 2001 AUMF authorizes an expanded military campaign in Syria and Iraq today is equally spurious and dangerously broad. In essence, the Obama administration is arguing that the 2001 AUMF applies to a group that didn't exist on 9/11, and isn't even associated with al Qaeda – indeed, to a group explicitly rejected by al Qaeda."
Congress alone has the authority to send the country to war, something it has to authorize 90 days after any combat mission begins. The White House did ask Congress for a new AUMF to combat ISIS (or ISIL, as the in February, but no decision was ever made as the bill was flatly rejected by both Republicans and Democrats even before making it to the voting stage.

"The Democrats thought it was too broad, that it didn't have a sunset, it wasn't limited by geography and that it was another version of an open-ended war authorization even though it had a prohibition against enduring combat troops," said Charles Stimson, manager of the National Security Law Program at the Heritage Foundation, a Washington-based think tank, and a former Deputy Assistant Secretary of Defense for Detainee Affairs. "Republicans thought that it wasn't open-ended enough or broad enough because they'd never heard of in modern times a president that was limiting the military action that could be taken."
Stimson, who said that the 2001 AUMF does legally allow a war against ISIS because the terror group is an offshoot of al Qaeda, also noted that the new AUMF was largely a token effort from the White House to appease Congress' constitutional right to send the country to war or not. But Stimson contended the administration purposely hedged the language to create an impasse and show Congress as weak. And it seems Congress is happy with that outcome, apparently abdicating its role to avoid making what could be an unpopular public decision, said Stimson.
Republican lawmakers have reacted strongly to the White House's weak language against ISIS. For example, Sen. Marco Rubio, R-Fla., said that the AUMF should have one line that says, "We authorize the president to defeat and destroy ISIL," while Sen. Lindsay Graham, R-S.C., said that limitations would "harm the war effort." Democrats in Congress managed to produce a draft AUMF late last year with some changes from the White House version, inserting language that meant there would be no possibility of ground troops or a long, drawn-out war.
Sen. Timothy Kaine, D-Va., said that few colleagues were beating down his door to co-sponsor a new bill, explaining to The Hill in August that bill is now "completely dormant" and that the Foreign Relations committee, which is in charge of shaping U.S. overseas policy in Congress, had spent only 90 minutes discussing the new AUMF in the past 12 months.
It's not yet clear in the aftermath of Obama's speech if a new bill will be presented to Congress to avoid further questions about the controversial use of the 2001 AUMF, but Christopher Chivvis, director of the International Security and Defense Policy Center at RAND, a Washington-based think tank, said that the government should not rely on old legislation that relates to a different era and must act quickly to push through new legislation.
"Acting now would send a clear message about U.S. commitment to future counterterrorism operations and telegraph continued U.S. resolve to the American public and the world," said Chivvis. "History suggests that the threat is evolving, and therefore so should U.S. authorities."
© Copyright IBTimes 2023. All rights reserved.