Occupy Las Vegas is 'Tourist-Friendly'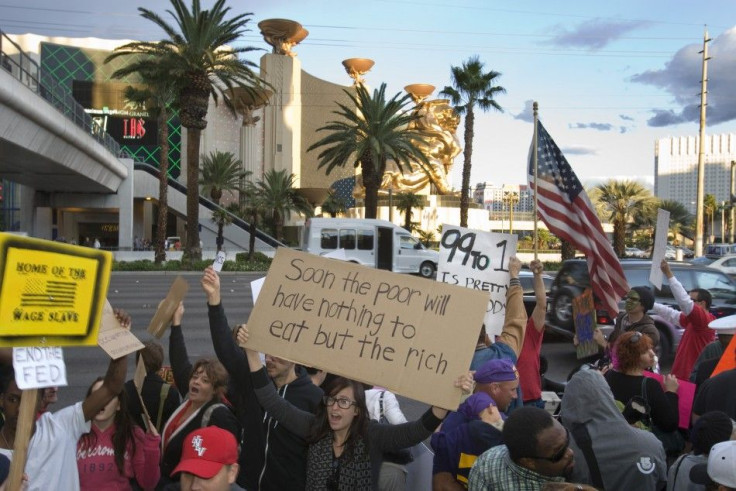 Las Vegas may be Sin City but its people know how to maintain an amiable image. The city lives by the motto do not upset the tourists, and Occupy Las Vegas is no exception.
Occupy Las Vegas is one of the dozens of copycat movements that formed last month after protestors began gathering near Wall Street in downtown New York to demand an end to corporate greed, economic inequality, and government corruption.
In what's likely the Occupy Movement's most friendly gathering, Las Vegas demonstrators sought approval from government leaders and police before setting up a camp site. They peacefully called off a protest when President Barack Obama visited last month at the police's request, and they've created a system of protest rules that prohibit things like law-breaking and hate signs.
Protestors in Las Vegas lease an empty lot from the county and abide by contract mandates. They submit their plans to the police during weekly meetings and cooperate as needed. Not one person has been arrested or sent to the hospital in Las Vegas.
So why are people of a city that celebrates bad behavior touting civil obedience?
By all accounts, the people of Nevada have even more cause to complain. The desert state tops the nation in unemployment. Foreclosures are rampant with entire neighborhoods emptied and shopping centers shuttered.
Though the tourism industry has gained some strength of late, the recession has decimated the Silver State's other economic pillars.
READ ALSO:
11/11/11 Wedding Rush is on as Thousands Flock to Las Vegas
OWS's Zuccotti Park becoming New York's #1 Tourist Destination
Occupy Wall Street Demands Attention With 'No Comment Art'
Instead of violently protesting, the Occupy Las Vegas members decided they could accomplish more by fighting less. Instead of clashing with police, they hold workshops aimed at helping struggling homeowners.
This tactic is in stark contrast with the violet images from the Occupy Movement's other camps in New York, Oakland, or Portland, Ore. While Wall Street looks like a war zone, Occupy Las Vegas looks more like a picnic.
We don't want to chase tourists away from our city because that's where a lot of people's jobs come from, David Peter, a union worker active in the Las Vegas movement, told the AP.
It may be The Entertainment Capital of the World, The Marriage Capital of the World, and The Capital of Second Chances, but locals call Las Vegas Lost Wages.
It's the unemployment capital and the foreclosure capital of America and the protestors in Nevada's biggest city hope that their friendly protest can help rid their city of some of its undesirable nicknames.
© Copyright IBTimes 2023. All rights reserved.