Occupy Oakland: Mayor Quan Adviser Resigns After Second Raid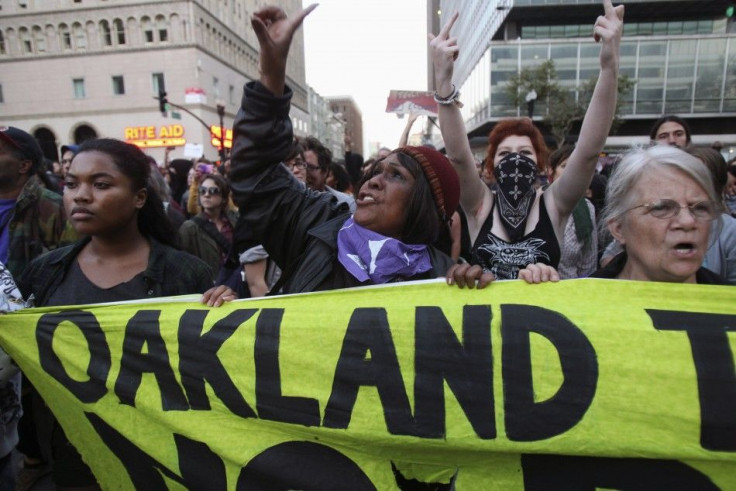 Mayor Jean Quan's chief legal adviser Dan Siegel has resigned in opposition to a second police raid of the Occupy Oakland camp at Frank Ogawa Plaza, expressing his solidarity with the 99 percent and condemning his longtime friend as a city insider.
After some weeks of allowing the camp to remain open, Mayor Quan and the Oakland Police Department once again ordered Occupy protestors to evacuate. Occupation is a tactic, not a solution, Quan said on Nov. 10, expressing concern at how the demonstrators were affecting Oakland's local businesses.
When many Occupy demonstrators refused to comply, police launched a second raid at the Oakland, Calif. camp in the early hours on Nov. 14., resulting in 33 arrests and a complete clearing of the camp. A similar raid in Portland, Ore. ended with police in riot gear arresting 50 protestors on the evening of Nov. 13.
Legal Adviser Tweets Resignation
While Quan hailed the second raid as peaceful and necessary, noting protestors could return as long as they didn't camp out, former friend Dan Siegel posted a Twitter announcement decrying the mayor's decision, and announcing his resignation.
No longer Mayor Quan's legal adviser, Siegel tweeted in the early hours before the second Occupy Oakland evacuation. Resigned at 2am. Support Occupy Oakland, not the 1% and its government facilitators.
The move comes after weeks of disappointment and frustration in his old friend's leadership tactics, Siegel told Mercury News, stemming from the beginning of the Occupy Oakland protests.
I thought the decision to evict the campers on [October] the 25th was a really bad decision, Siegel said, and city's been turned upside-down by it.
Siegel, who had considered Quan a close friend since their time at UC Berkeley decades before, was on the mayor's transition team when she took office in January, and stayed on as an adviser. Siegel drew fire when he openly opposed a gang injunction policy sought by the city attorney, but says Mayor Quan always respected the openness of his opinions.
When Oakland officials re-allowed the camp, Siegel thought Mayor Quan has re-aligned herself with the Occupy demonstrators. That was the right decision, though a hard decision, Siegel said. To take it down again however, speaks to chaos.
Occupy Protests Something Historic
Siegel's reasons for opposed Mayor Quan and the second police raid however, extend far beyond issues of prudence and public message. A civil rights attorney, the former adviser said he believes the Occupy movement is something historic, and that the demonstrators in Oakland represent more than issues of this disorderly plaza.
I really do think it's an extremely important movement, Siegel said, that hopefully will continue to grow and have a big impact on American society.
Despite his longstanding friendship with Quan meanwhile, Siegel felt the price he would pay for standing with the mayor was too great. Given the choice between expressing my solidarity with the Occupy movement and remaining a legal adviser to the mayor when we were clearly not on the same page was really a pretty easy choice for me.
For the past month, Siegel told The Chronicle, he has been trying to use his position as chief legal adviser help open up channels of communication between the protestors at Frank Ogawa Plaza. On the eve of the first raid, Siegel was accosted by demonstrators, who told him he should accept equal responsibility for Quan's decision or resign from her office.
I said, 'That's something I need to think about, Siegel recalled. In the weeks that followed, he claims he tried to talk Quan into negotiating with the occupiers to relocate and downsize their camp, but reports the mayor was increasingly reluctant to compromise, especially after the shooting of 25-year-old Kayode Ola Foster near the Plaza on Nov. 10.
When he heard about the planned second raid, Siegel wrote Mayor Quan an email announcing his decision to resign, saying the evacuation wasn't something I could give my name to.
He's Moving On, I'm Moving On.
In the aftermath of the successful Occupy Oakland raid, Siegel told reporters that he believes Mayor Quan has turned from a politician aligned with Oakland citizens to a city insider working with businesses and the Oakland Police Department.
There's a tremendous amount of institutional pressure when you become part of the city government, Siegel told The Huffington Post. I do think she was overrun by the opposition. It was a combination of council members, the chamber of commerce and some administrators in the city, including the city administrator and chief of police.
Nonetheless, Siegel admists that he was somewhat surprised by how much Mayor Quan has changed, and the risk she took with a second raid. Siegel told reporters the actions taken by the Oakland Police Department and government officials could easily have triggered more violence, and called the early morning evacuation risky and poorly planned.
Interim Oakland Police Chief Howard Johnson meanwhile, says the city plans to reopen the Plaza for the Occupy rally scheduled for 4 p.m. PST, and have been inventorying the camp to make sure personal items are returned to the demonstrators. When asked what would happen if protestors attempted to retake the Plaza for the night, Johnson demurred.
We will deal with the issue of lodging as it occurs, he said, before adding that we really don't have any reason to keep people out of the plaza... It's a public space.
Dan Siegel and Mayor Jean Quan have not spoken since her former adviser's resignation became public. At a news conference discussing the second Occupy Oakland raid, Mayor Quan refused to discuss her old friend's departure. He's moving on, I'm moving on, she told reporters before praising the Oakland Police Department for the evacuation.
© Copyright IBTimes 2022. All rights reserved.
FOLLOW MORE IBT NEWS ON THE BELOW CHANNELS